Considering making a career change or want to know how earning a college degree can translate into a job? Career Coach can help! Career Coach is a useful online tool that provides LOCAL career information, educational opportunities, job openings, and can even get you started in building a resume. Start using Career Coach and contact Southwest Tech to assist you in your career choice.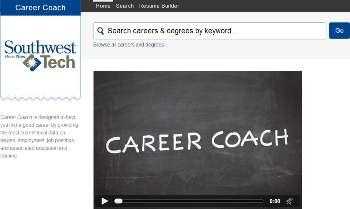 Get Started
Enter a job title, area of interest, or degree that you want to know more about
Click on a career or degree that interests you
How it Works
Learn About Careers
Career pages are packed with useful information about careers in our area including wages, employment outlook, job postings, similar occupations, and related degrees.
Build a Resume
Use the Resume Builder tool to assist you in building a comprehensive resume which you can use when applying to jobs listed in Career Coach. Create an account to save this resume and come back to it later.