Every day Southwest Tech students and alumni make an impact in the communities in which they live and work. Businesses flourish because of the educated and trained workforce that Southwest Tech produces.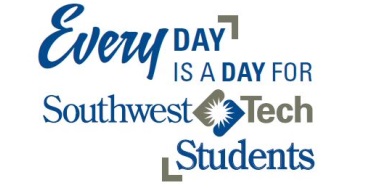 The Southwest Tech Foundation's annual fund drive, "Every Day is a Day for Southwest Tech Students" brings attention to the importance of investing in our local workforce by supporting scholarships and programs at Southwest Tech.
Staff and volunteers visit with local businesses and organizations to ensure Southwest Tech is meeting the needs of employers and preparing students for the future. If you would like to schedule a meeting, please contact the Southwest Tech Foundation at foundation@swtc.edu.

Thank you to our annual fund drive Lead Sponsors: Rayovac, First Merit Bank Foundation, Rockwell Automation, Queen B Media, and Lamar Outdoors.
Help make Every Day a Day for Southwest Tech Students by investing in local technical education today!