Medical Lab/Lab Science Technician Open House
April 25th
6:00pm (10:00am has been canceled)
Southwest Wisconsin Technical College
Health Science Building, Room 3608
1.5 hour sessions will include:
Program Information
Q&A with Instructors, Graduates, and Employers
Health Science Building Tour
Campus Tour
Refreshments will be served.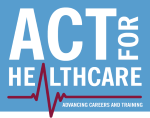 The ACT program is funded through a TAACCCT Round IV, $19.9 million grant that was awarded by the Employment and Training Administration of the U.S. Department of Labor. This is an equal opportunity program, so auxiliary aids and services are available upon request to individuals with disabilities.