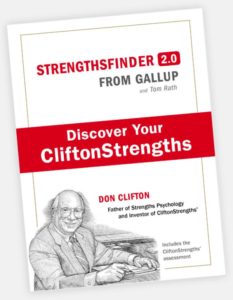 Strengths-based development starts with understanding what strengths contribute to performance. Every team is the sum of its parts, and different challenges call for specific abilities. Some teams need conflict resolution and some need help staying on task, while others need help aligning their work with the organization's purpose.
Use Strengths to Boost Performance
The CliftonStrengths assessment identifies a person's natural talents and capacities to perform at excellence. It's a development tool – the more you use your strengths, the stronger they get – and a means of tailoring talent to task and improving performance.
Upcoming Courses
Fee Details:

FREE through a partnership with Prosperity Southwest

Date: TBD
Use the following proven best practices to increase the use of CliftonStrengths in your organization.
Create a common language of strengths:
Give every employee the opportunity to discover their strengths. Strengths gives teams a common language to use when they collaborate.
Build an internal network of strengths coaches:
Strengths coaches serve as internal advisers, providing managers with practical insights and tools.
Integrate strengths into performance management:
Managers can lead teams to better performance outcomes when they understand each team member's strengths.