Who we are is how we lead.
Join us for an interactive workshop focused on the research of Dr. Brené Brown. This four-hour introductory training will focus on developing the courage-building skills necessary to help leaders move from armored leadership to daring leadership.
Our certified Dare to Lead™ facilitator, Kate Adametz Jenkins, brings decades of experience, humor, and heart to her work. She helps people develop the practices necessary to navigate with courage and lead in an increasingly complex world. This training introduces:
Rumbling with Vulnerability
Bravely embracing risk, uncertainty, and emotional exposure
Living into our Values
Identifying, operationalizing, and practicing the personal values that guide us
Braving Trust
Strengthening connections in relationships and teams based on the seven elements of trust
Learning to Rise
Learning to reset when we fall
The combination of Brené Brown's empirically-based curriculum and Kate's accessible style and high energy make this an engaging and impactful workshop.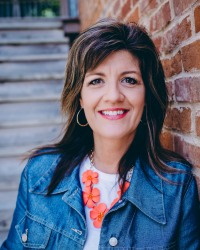 Kate Adametz Jenkins is a Talent Development Professional with over 20 years of experience. In 2009, she earned her Professional Coaching Certification through the International Coach Academy and became an internal leadership and development coach along with starting a private coaching practice working with professional women on striking balance in career and life.
A skilled facilitator, she regularly trains Crucial Conversations® and Crucial Accountability™ curricula. In 2019 she was trained by Brené Brown as a Certified Dare to Lead™ Facilitator.
Those who work with Kate report gaining fresh perspective, empowerment and a partnership that delivers results.