We are pleased to share Phase IV of the Return to Campus Plan. Our goal is to create a safe and healthy environment by minimizing the risk of and reducing exposure to the pandemic for our campus community. This plan represents our commitments to world-class learning and high-quality teaching, which positively impact the economy of Southwest Wisconsin by improving the lives of the people in the district we serve.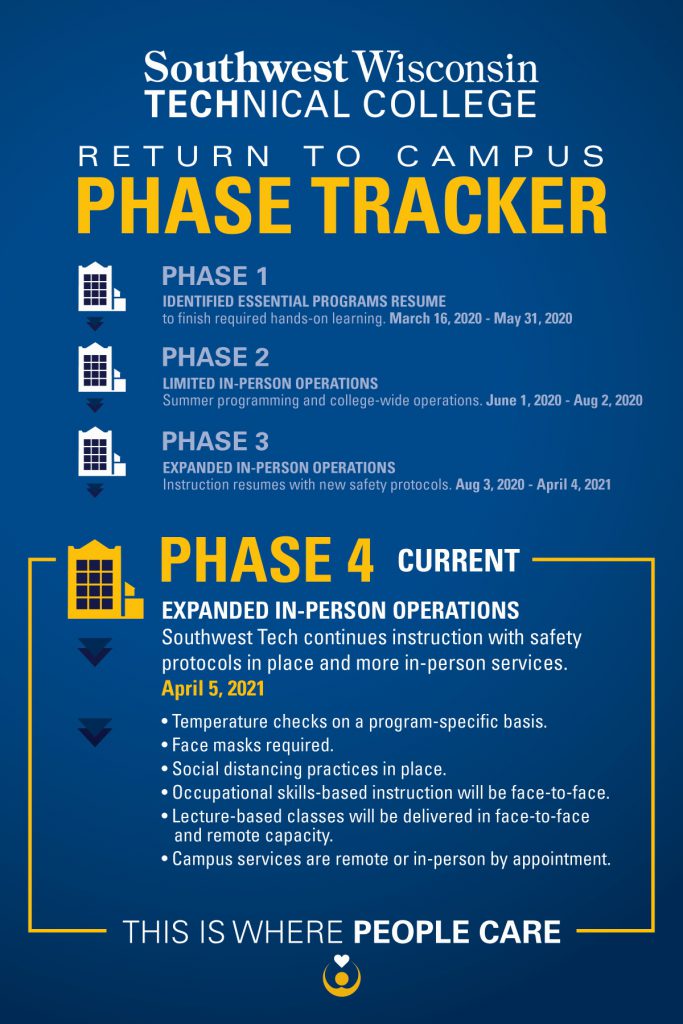 COVID-19 Reporting
Students and Staff: Report contact with someone showing symptoms or tested positive for COVID-19.
---
Southwest Tech College Communication Updates
Update From President, Jason S. Wood, Ph.D. – May 10, 2021
Dear College Community,
Welcome to May! Thank you for all of your work over the past year. Many, many students will graduate because of what you do to help them be successful. Please know you have helped improve the lives of our students with your work and service at the college. 😊
Here is an update:
COVID

We continue to slowly re-open campus for in-person services and instruction. We thank the many, many people who always respect and follow college protocol while on campus. Well done! Let's keep it up for the health and well-being of each other.
Please remember to wear face masks and maintain physical distance. It is also important you stay home if you are not feeling well. More information and instructions will be provided regarding the next phase of re-opening.
We strongly encourage you to get a vaccine. Here is the link for making an appointment. Just over 70% of our fulltime faculty and staff have been vaccinated. Our ability to relax some of the safety protocol increases as the vaccination rate reaches 90%.

Creative Elements Salon is open for business! As part of the curriculum students need to spend time serving customers. If you feel comfortable, please consider lending them your hand…for a manicure! More details will be shared soon. We recognize the extra efforts many faculty are making to ensure students get the essential hands-on learning that prepares them for successful careers…thank you for helping our students learn.
---
Contact our Team
If you have thoughts, ideas, feedback, or questions, please send a note to our COVID-19 Response Team by using the link below. Members of our team regularly monitoring this feedback.
---
As a college, our greatest strength is our faculty and staff who care so much about your students and communities. Please rely on our collective kindness and mutual respect to guide us through uncertain times. Please know we hope you and those close to you remain healthy.