Southwest Tech students help light Richland Center park
Billed as "the region's most spectacular light display," the Rotary Lights in the Park event in Richland Center is made possible thanks to the efforts of students in the Electrical Power Distribution program at Southwest Wisconsin Technical College in Fennimore.
The display at Krouskop Park, 1050 N. Orange St., runs through New Year's Eve and is sponsored by the Rotary Foundation of Richland County.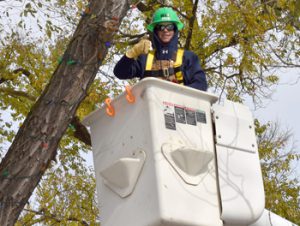 This year, 44 students from the Southwest Tech EPD program assisted the Richland Center Electric Utility in a number of activities in preparation for the popular event. "The guys do a wide range of things," said Joe Randall, EPD instructor at Southwest Tech. "They might be stringing electrical wire from the trees, they might be burying it in the ground, they might be stringing LED lights in a specific way on the limbs."
The students were at the park for two full days, Oct. 31 and Nov. 1, adding their hard work to that of the Richland Center crew. "We'd never be able to do it without the help of the Southwest Tech students," said Dale Bender, electric utility superintendent with the Richland Center Electric Utility. "That's been a great partnership."
"You imagine you get that many people in eight buckets, in lifts, up in the air you can accomplish a lot," said Keith Behling, co-chair of the Rotary Lights in the Park. "We'd still be doing it if we were doing it ourselves. They are vital to the program, actually."
The display started in 2012 on a much smaller scale, according to Bender. "We had a few trees and displays then," he said. This year they wrapped limbs on 26 trees and are expecting to host at least 10,000 visitors.
"The biggest thing is seeing the joy it brings to families," said Behling. "It's been setting a family tradition that people keep coming back here year after year."
There are designated times nightly for pedestrians and vehicles. Walkers can view the lights at 6 p.m., with only vehicles allowed in the display at 7 p.m.