Campus Food Assistance
The Southwest Tech Food Pantry was started in 2009 to help students by providing nutritional food support so they can focus on their education. Many individuals, at certain times in their life, encounter short-term financial situations - Chargers Cupboard is here to help during such stressful times.
Frequently asked questions about using The Cupboard: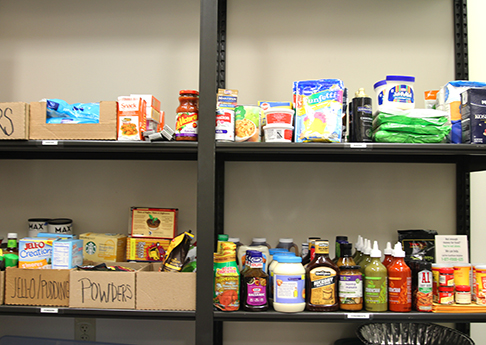 What is Chargers Cupboard? Food assistance is available to any current Southwest Tech student in need of emergency or supplemental food.
Where is it located? It is located in the Knox Learning Center (Room 314). Ask any staff member in the library services area and they will be happy to assist you.
What are the hours?
Monday to Thursday - 7:30 a.m. to 6:00 p.m.
Friday - 7:30 a.m. to 4:30 p.m.
These hours don't fit my schedule, are there other options? Yes! Stop in and talk to a staff member, or call the number listed below, and we can make arrangements that better fits your schedule.
What is available? The inventory in Chargers Cupboard is dependent on donations and groceries purchased/received through Second Harvest of Madison. We do our best to provide a variety of food. Depending on inventory that is available, you will be allowed one or two bags of groceries a week.
How often can I visit? We would never turn anyone away that needs assistance, but we ask that you try and limit your visits to once per week.
What information will be asked for? You will need to show your Student ID which will be scanned to verify your current student status and used for monthly reporting. Your Student ID will be kept confidential! We also have a guideline form we use for Second Harvest reporting.
Are there certain items that you need donated to the pantry? Yes, the following is a list of items we frequently run out of:
Ramen Noodles
Ravioli
Canned Tuna
Mac'n Cheese
Dish soap, bar soap, laundry soap
Canned Spaghetti
Shampoo
Canned Chicken
Canned Fruit
Toothpaste
Kleenex
These items can be dropped off in the Knox Learning Center or at Southwest Tech's main entrance reception area.
Have more questions? Feel free to call 608-822-2338.