The Healthcare Skills Center provides nursing and other health program students the opportunity to utilize learning strategies, practice psychomotor skills and meet individual educational goals in their academic pursuit.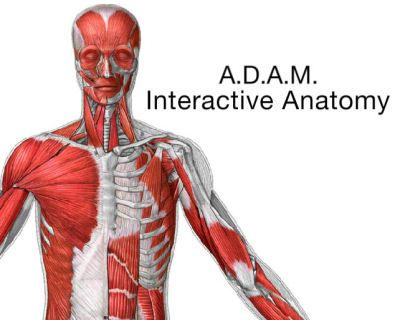 A.D.A.M.: Interactive Anatomy
The A.D.A.M. program is used by our students as an online Anatomy interactive learning resource. You can get a taste of what this program can do on the A.D.A.M. Demo page, or ask to be given access to this program by seeing Janet in the Healthcare Skills Center.
Screen Captures from the A.D.A.M. Program
The screen captures below show examples of how you can take away individual anatomical layers and also see the labeling of the different anatomical structures.
Students may sign up for an A.D.A.M. account
See Janet in the Healthcare Skills Center, room 2626 in the Heath building, to setup your account.
Neehr Perfect
NEEHR (Networked Educational Electronic Health Record) Perfect is a basic Electronic Health Record (EHR) system. The system works on nearly every internet ready device such as tablets and smartphones. Knowledge in Neehr Perfect is applicable to Health Professions, Health Information Technology and Medical Coding careers.
Neehr Prefect is used to teach:
Safe patient care
Professional skills
Clinical prioritization
Teamwork
Scope of practice
Informatics
Leadership and More