---
Ag Power Web Enhanced Course Materials
---
---
Air Conditioning
Reference Links
Helpful Links
If you experience any problems with the site, please contact Pete Hoffman immediately so corrections can be made. Pete can be reached on campus, via email at phoffman@swtc.edu or by phone at 1.800.362.3322 ext 2727.
---
---
Performance Testing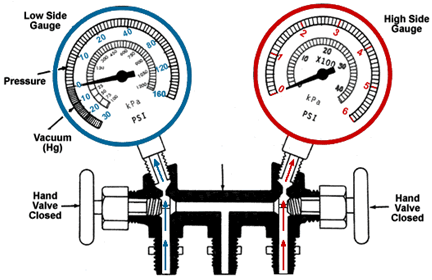 Compound Gauge (Low Side)
The compound gauge derives its name from its function. It will register both pressure or vacuum.
All air conditioning systems can, under certain conditions, drop from a pressure into a vacuum on the low side. It is necessary that a gauge be used that will show either pressure (psi and kPa) or inches of mercury vacuum (Hg.).
The vacuum side of the gauge must be calibrated to show 0 to 30 inches (0 to 762 mm) Hg. The pressure side of the gauge must be calibrated to register ac­curately from 0 pressure to a minimum of 60 psi (414 kPa).
The maximum reading of the pressure should not exceed 160 psi (1103 kPa). Practically all readings of the low side of the system will be less than 60 psi (414 kPa) with the system in operation.
High Pressure Gauge (High Side)
The high pressure gauge is used to determine pressures in the high side of the system.
The gauge is calibrated to register accurately from zero pressure to a minimum of 300 psi (2070 kPa).
A few systems operate under high head pressure during normal operation conditions. This is why the high pressure gauge should have a reading of at least 600 psi (4140 kPa).
Gauge Manifold
The gauge manifold mounts the high and low side gauges and connects the gauges into the high and low sides of the system by means of test hoses.
The gauges connect to the upper part of the manifold through holes drilled and tapped to a 1/8-inch pipe thread.
Test hose connectors below the gauges on the lower side of the manifold direct the refrigerant through the manifold to the gauges to obtain pressure readings.
A center test hose connector on the lower side of the manifold is connected to both pressure gauges and the test hoses by a passage in the manifold.
Refrigerant flow into the high and low side is controlled by a shutoff hand valve at each end of the manifold.
---
---