---
Ag Power Web Enhanced Course Materials
---
---
Electrical
Reference Links
Helpful Links
If you experience any problems with the site, please contact Pete Hoffman immediately so corrections can be made. Pete can be reached on campus, via email at phoffman@swtc.edu or by phone at 1.800.362.3322 ext 2727.
---
Related Lecture Notes
Circuits
Meters
---
Ammeter
An Ammeter is:
Used in a closed circuit. (Circuit must be disconnected to connect meter in series, unless you use an inductive pick-up meter)
Used to measure current flow
Connected in series in a circuit according to polarity
---
The diagram illustrates meter usage - click on the small ammeter and voltmeter to see an example of correct readings.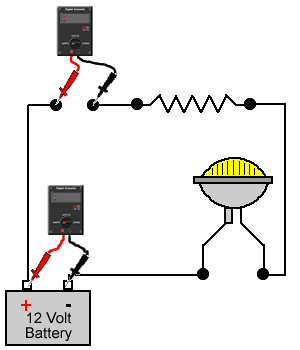 ---
Also see: Voltmeter and Ohmmeter
---
---