For Immediate Release
Contact: Kim Schmelz, External Relations & Alumni Development
Phone: 608.822.2379
Email: kschmelz@swtc.edu
Mail: 1800 Bronson Blvd., Fennimore, WI 53809
Date: May 25, 2018
3M Recognized for their Philanthropic Support to Southwest Tech
Fennimore
-
3M was recognized at the Southwest Tech Foundation Donor Appreciation and Alumni and Retiree Awards program last Friday for their philanthropic support. 3M was added to the Southwest Tech Foundation Donor Wall at the $100,000 level. Shelly Gruber, Human Resources Manager attended the dinner on behalf of 3M Prairie du Chien.
3M has been a strong advocate of Southwest Tech this year and for many years prior. As part of 3M's Corporate Commitment to Education initiative, they are committed to the goals set to increase student achievement in STEM and business curriculum; support post-secondary programs that attract, retain and develop graduate students; and promote equity by driving access to quality education for all communities.
This year 3M and 3M Gives granted the Southwest Tech Foundation $134,512 in the 2017-2018 academic year to facilitate a program between 3M (Prairie du Chien), Southwest Tech, and Prairie du Chien High School to build a "Grow Your Own" sustainable workforce program aimed at careers in manufacturing. The partnerships with 3M allows Southwest Tech to help fill the gap between a retiring workforce and the next generation of highly skilled technicians. The training and equipment supported by this grant enables local high school students a chance to learn industry-relevant skills and principles that apply to a number of in-demand careers. Upon receiving the grant, the Southwest Tech Foundation purchased portable manufacturing learning platform trainers and laptops that are currently being used at Prairie du Chien High School. Southwest Tech instructors work with PDCHS instructors, to ensure academic credibility and that course learning outcomes are met in order to allow for a smooth transition from the high school course to the Electro- Mechanical Technology program at SWTC.  In addition, 3M in Prairie du Chien has committed to creating regional manufacturing career mentor partnerships, internships, and career exploration opportunities that will build this program and develop sustainable industry/education partnerships for long-term career and economic development.  ​To that respect, after receiving the initial grant of $134,512, in April the Southwest Tech Foundation was awarded an additional $2,500 grant award to be split between two students currently enrolled in the Electro-Mechanical Technology program, a testament to the fact that they are committed to education.
"We appreciate the support of 3M. Their passion for finding creative solutions to grow their workforce and make an investment with their impactful gifts creates great opportunities for our current and future students," said Kim Schmelz, Director of External Relations and Alumni Development at Southwest Tech.
###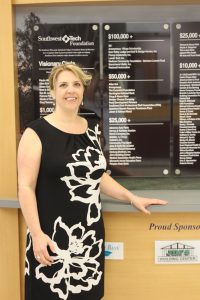 Photo caption: Shelly Gruber of 3M in front of the Southwest Tech Donor Wall.