For Immediate Release
Contact: Kim Schmelz, External Relations & Alumni Development
Phone: 608.822.2379
Email: kschmelz@swtc.edu
Mail: 1800 Bronson Blvd., Fennimore, WI 53809
Date: April 21, 2017
Bast and Dombeck Receive Inaugural Wood Family Employee Excellence Award
Fennimore
-
Forty-four Southwest Wisconsin Technical College employees were recognized on April 13 at the all-campus in-service on the Southwest Tech campus as nominees for the Wood Family Employee Excellence award.  Karen Bast and Jeff Dombeck, Culinary Instructors, were chosen as this year's recipient of the $500 award.
The nomination for the award detailed how Bast and Dombeck led the culinary preparations for Platteville's first Fall Harvest Dinner. Their nominator stated, "Karen and Jeff took on the project of partnering with the Platteville Regional Chamber to provide an amazing meal and décor. Adding to the complexity of the off-campus event was the fact the food was prepared and served in a machine shed with a make-shift kitchen. It took a tremendous amount of time to pull of this great event, and it truly was a remarkable way for the College to be involved in the community and represented in such a professional and innovative way."
President Jason Wood and his wife Kathryn established the endowed fund to recognize current faculty and staff for service to the college that goes above and beyond, while demonstrating the values of the college. Nominations for the award were taken from campus "Shout-Outs," a form of recognition in which college employees are encouraged to recognize colleagues by submitting a Shout-Out form that details what the employee did that should be recognized and what college value(s) it aligns with.
Beth Cummins, Flexible Learning Coordinator, and Dan Scullion, Custodian, were recognized as runner-ups for the award and received $250 awards. Cummins nomination noted her dedication to learning and implementing Schoology. Her nominator stated," I suspect because of her dedication to learning Schoology we, as a college, will set the stage in which other post-secondary educational institutions will want to follow and/or emulate when exploring LMS options. Scullion's nominator praised the work he does to improve the facilities in the most efficient manner and adhere to high quality standards.
Holly Clendenen, Executive Director of the Foundation, presented the monetary awards, noting the excellence of faculty and staff who continue to make Southwest Tech the number one two-year college in the state.
To learn more about Southwest Tech, the Southwest Tech Foundation or the Wood Family Employee Excellence award, please contact Clendenen at (608) 822-2362 or hclendenen@swtc.edu.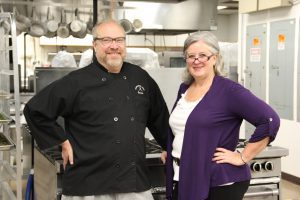 ###