For Immediate Release
Contact: Daniel Wackershauser, Marketing Specialist
Phone: 608.822.2303
Mail: 1800 Bronson Blvd., Fennimore, WI 53809
Date of Release: August 31, 2022
Bell builds 30 years of relationships
Fennimore
-
When it comes to business, the objective isn't to make as much money as possible, it's about cultivating relationships and the revenue will come. That's the philosophy Paul Bell has carried with him throughout his 30-year teaching career at Southwest Wisconsin Technical College. Bell, a Business Management instructor, recently reached that milestone at the college and he has no plans of slowing down. "I don't look at myself as a teacher," he said. "I look at myself as learning alongside the students and developing those relationships. That's what it's all about."
Bell grew up in Darlington, Wisconsin and after graduating from high school he earned a bachelor's degree in Business from UW-Platteville. His parents operated a small machine shop during his younger year, so he was involved in business at an early age.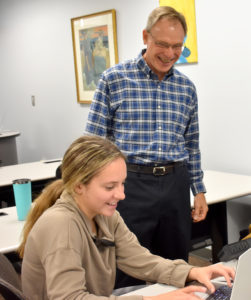 During his senior year in college a family friend suggested to Bell that he took a look at the financial services field. He began selling insurance and investments and later became a CERTIFIED FINANCIAL PLANNER™ practitioner. Bell worked in the financial services field, as well as marketing and sales for nine years before teaching at Madison Area Technical College, now known as Madison College. He taught a three-hour night class in personal finance. "I loved it," said Bell. "It's what I did."
While he was teaching, Bell was working for a company that managed retirement funds. The company eventually lost its contract. He spotted an advertisement for a half-time finance teaching position at Southwest Tech and was hired in 1992. That position very quickly turned into full-time and, as they say, the rest is history.
"It's a people business," added Bell. "We are trying to make the lives of other people better. That's what I try to bring to the classroom. I think we do that as a college; how do we make the lives of our students better, giving them the skills they need?'
Bell noted, there are a number of reasons he remains at Southwest Tech after 30 years in the classroom and that has evolved over time. "My favorite day of the year is graduation," he said. "To be able to watch someone who comes in who doesn't know which direction is up sometimes, and to watch them grow, develop and mature and have the skills to go out and make a difference is great."
Since he was recently recognized for his 30-year milestone, Bell has fielded numerous inquiries about his future. He doesn't not have any plans of retirement. "In the next 30 years I have more interests than time," he said.
"As an instructor you get both credit and blame, but I've never thought it's what I do that makes a difference," said Bell. "It's the students and what they choose to do. If I, in some small way have been able to help them see that it's not something external that controls their life…that they're the ones who get to make decisions in their life."
Bell and his wife currently reside in Mount Horeb, Wisconsin.
| Southwest Wisconsin Technical College, a finalist for the 2023 Aspen Prize for Community College Excellence, is one of 16 institutions that comprise the Wisconsin Technical College System. Southwest Tech offers more than 60 programs in a wide variety of disciplines. Courses are offered on campus, online, HyFlex and in a blended format. The college provides apprenticeship, certificate, technical diploma, and associate degree programs that respond to district workforce needs and prepare student for family-sustaining jobs and career advancement. |