For Immediate Release
Contact: Daniel Wackershauser, Marketing Specialist
Phone: 608.822.2303
Email: dwackershauser@swtc.edu
Mail: 1800 Bronson Blvd., Fennimore, WI 53809
Date: May 21, 2018
Collision repair students earn certification
Fennimore
-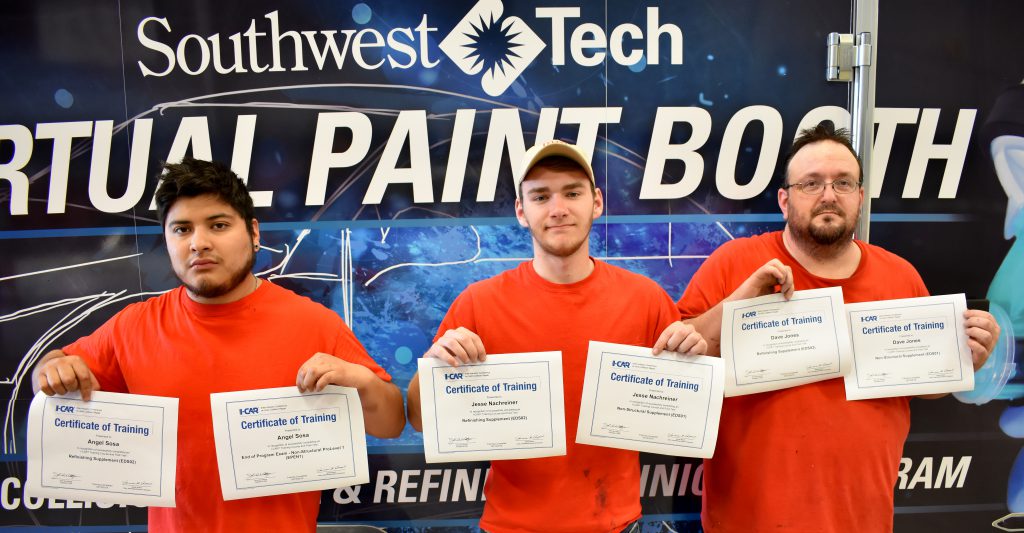 Three Southwest Wisconsin Technical College collision repair students have passed the I-CAR Non-Structural Pro Level 1 and Refinish Pro Level 1 exams, earning technician level I-CAR certification. They include Angel Sosa, Jesse Nachreiner, and Dave Jones.
"This is the first year we have offered this to students, in fact, I just completed mine also," stated Greg Wubben, auto collision repair and refinish technician instructor at Southwest Tech. "Because we are an I-CAR Fixed Training Site there was no cost to the student for access at the start of the year ($50) or to take the tests ($50)."
The exams are an extension of the in-class training and the flipped classroom homework assignments.
An employed technician wanting this level of training would have a minimum of 35 classes or modules to take at around $125 per class. The three students who took the tests have saved their employers a considerable money.