For Immediate Release
Contact: Kim Schmelz, External Relations & Alumni Development
Phone: 608.822.2379
Email: kschmelz@swtc.edu
Mail: 1800 Bronson Blvd., Fennimore, WI 53809
Date: August 23, 2016
Daniel Glass and Katie (Friar) Glass Scholarship Established at Southwest Tech
Fennimore
-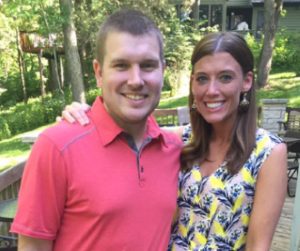 The Southwest Tech Foundation is pleased to announce the establishment of the Daniel Glass and Katie (Friar) Glass Scholarship. This scholarship is for incoming freshman at Southwest Tech who have graduated from Lancaster High School or Cassville High School.
Katie J. (Friar) Glass graduated from Lancaster High School in 2003 before pursuing a B.A. from UW-Platteville. In the spring of 2016 she began her employment as the Marketing Specialist and Public Information Officer at Southwest Tech, after working in higher education for almost five years.
Daniel J. Glass graduated from Cassville High School in 2003 before pursuing a B.S. from UW-Madison and a Law Degree from Marquette University. He is now a partner at Urban, Kussmaul, Muller and Glass, LLC, in Lancaster.
Katie and Daniel are tremendously proud of their high school alma maters and the education that they received there. "It is our wish to give back to students from our home towns who are pursuing their dreams by furthering their education, but who do not have financial support. Whether the student is gifted or challenged, we hope this scholarship can help them become more successful," stated Katie.
"It means a lot to the Foundation and the College when an employee starts a scholarship and is able to witness first-hand the impact of their gift on our student body," said Kim Schmelz, Director of External Relations and Alumni Development. "Katie and Daniel's scholarship fund is a wonderful gift to Southwest Tech and the communities of Lancaster and Cassville."
The Southwest Tech Foundation is a nonprofit organization dedicated to promoting learning through funding and activities that enables Southwest Tech to provide opportunities for success. The Southwest Tech Foundation welcomes contributions year round to help financially support students, programs and staff at the College. All contributions are tax-deductible. For more information on how you can make a memorial or honorary gift please contact Kim Schmelz at 608-822-2379 or visit www.swtc.edu and click on the Foundation tab.