For Immediate Release
Contact: Daniel Wackershauser, Marketing Specialist
Phone: 608.822.2303
Mail: 1800 Bronson Blvd., Fennimore, WI 53809
Date of Release: February 10, 2021
Medical Coding Specialist program #1 in the nation
Fennimore
-
According to the ranking by BestColleges.com, Southwest Wisconsin Technical College is number one in the nation on the list of "2020 Best Accredited Online Associate Programs in Medical Billing and Coding." The announcement indicated that, "In 2018, billing and coding professionals earned a median salary of $40,350, significantly higher than the median pay for all other occupations. The Bureau of Labor Statistics (BLS) projects that employment for all medical record and health information technicians will increase by 11 percent from 2018 to 2028, nearly double the projected rate of growth for the rest of the economy."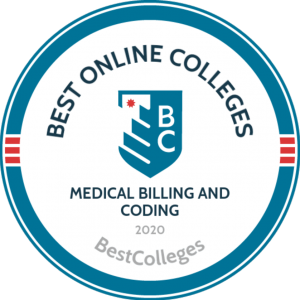 "This is truly a tremendous recognition of our Medical Coding program, as well as our HIT (Health Information Technology) program, which work well together," said Dr. Jason Wood, president of Southwest Tech. "Healthcare management is more important than ever. Our students are gaining the best education available, which they can put to good use in a long and successful career."
Jen Lame, Southwest Tech Medical Coding/HIT instructor and program director, is proud of the program's best-in-the-nation ranking and the success of her students. "This program attracts students from all across the country, who move on to do great work," she said. "This top ranking reinforces our commitment to our students and shows our efforts to educate successful graduates is working."
Southwest Tech's program takes place entirely online, except for an in-person field experience. There is no extra charge for out-of-state tuition. Remote students can complete the Medical Coding Specialist technical diploma, with 33-34 credits, in three semesters. The HIT program, requires 60-61 credits, in about five semesters.
"I don't regret going back to school at my age, but it was definitely hard," said Kasey Winters, 37, a 2019 Medical Coding Specialist graduate and 2020 HIT graduate, with honors, from Cloquet, Minnesota. "I was a full-time mom, full-time wife, had two full-time jobs, and went to school full-time. Graduating allowed me to accept another position within my employer with enough of a raise that I didn't need a second job."
In addition to the lack of out-of-state tuition, at Southwest Tech, HIT graduates are eligible to take the RHIT (Registered Health Information Technician) certification exam and Medical Coding Specialist graduates are eligible to take the CCS (Certified Coding Specialist) or CPC (Certified Professional Coder) coding certification exams.
With the online accessibility, the programs are available to anyone. Sarah Waynick, 38, from Portage, Michigan, learned of the programs through the National Cancer Registrars Association website. "Being in my mid-30s, I wanted to go back to school online rather than in person," she said. "I saw that SWTC offered the program fully online for a very reasonable price."
Medical Coding Specialist curriculum transitions smoothly into the HIT program, should students want to advance or even start there. "My experience has been great," said Waynick, who is currently enrolled in the HIT program. "The instructors are very helpful, and assignments are laid out very clearly so we can easily stay on track. I've learned a lot about coding and in what sort of facilities/departments I may like to pursue a career."
Winters has experience with both programs, having completed the Medical Coding Specialist program first, before re-enrolling in the HIT program. "It (coding) was the hardest thing I ever did," she said. "The program itself is challenging, but I made lifelong friendships while in it, and learned that I don't always need to be so independent and headstrong. There isn't just one black and white answer many times. I had to learn to embrace the gray area."
With the opportunities available to graduates in the workforce, Waynick has some advice. "If you're considering trying out the program, give it a shot," she said. "The pace is reasonable, and the help is there. Just stay organized."
More information about the Medical Coding or HIT programs can be found at www.swtc.edu/programs.
• The ranking includes information on each program's admission requirements, available concentrations, and financial aid opportunities. It also indicates whether online courses are offered synchronously or asynchronously, making it easier to know whether students can schedule their learning around a full-time job or family responsibilities.
In addition, to assess academic quality, BestColleges.com focusses on what it believes are the most important distinguishing factors. It compares a school's admission rate to its enrollment rate to gauge the rigor and competitiveness of a school. It uses full-time retention rate to rank a school's effectiveness at keeping students enrolled. Similarly, graduation rate is crucial in weighing how many enrolled students successfully complete their degree program (note that graduation rate measures full-time, first-time students).
The affordability score considers the cost of the program (average net price) with the amount borrowed (percentage of students taking loans) and the ability to repay a loan after graduation (average loan default rate). The goal is to reward schools not only offering competitive tuition but also providing students with the skills needed to graduate and successfully enter the workforce.
All eligible institutions are ranked on a 100-point scale. A perfect score of 100 is earned by ranking #1 within each of the three ranking categories. Unless otherwise noted, BestColleges.com applied its 11 ranking factors to the 4,170 eligible schools currently offering online programs. More information can be found at www.bestcolleges.com/subject-ranking-methodology.
• Best Colleges.com provides students with direct connections to schools and programs that suit their educational goals through its degree resources and program rankings. Its rankings are intended to inform and guide prospective students toward institutions that provide quality education and meaningful learning experiences at affordable costs.
| Southwest Wisconsin Technical College is one of 16 institutions that comprise the Wisconsin Technical College System. Southwest Tech offers more than 60 programs in a wide variety of disciplines. Courses are offered on campus, online and in a blended format. The college provides apprenticeship, certificate, technical diploma, and associate degree programs that respond to district workforce needs and prepare student for family-sustaining jobs and career advancement. |