For Immediate Release
Contact: Daniel Wackershauser, Marketing Specialist
Phone: 608.822.2303
Email: dwackershauser@swtc.edu
Mail: 1800 Bronson Blvd., Fennimore, WI 53809
Date: January 14, 2019
Outdoor Skills Day provides opportunity for active learning
Fennimore
-
In collaboration with the Grant County Outdoor Sport Alliance, the Southwest Tech Blue Line Club, and the Outdoor Heritage Education Center, Southwest Tech will be hosting the 7th annual Outdoor Skills Day on Saturday, Feb. 2. The family-friendly event is free and open to the public, operating from 10 a.m.-3 p.m. in the Ag/Auto Center on campus.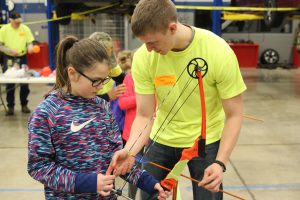 The day will include several skills stations such as archery, ice fishing, casting/fly rods, BB guns, and an outdoor skills challenge, among many more. Volunteers from the sponsoring organizations, including Southwest Tech students, will assist attendees through the stations.
"We hope they enjoy the activities and decide they want to purchase hunting and fishing licenses and go pursue those activities on their own," said Kelly Tollefson, president of the Grant County Outdoor Sport Alliance.
Seminars are also planned, including Dogs, Kennels, Finding Sheds; Decoying Waterfowl, and Turkey Hunting, among others. Snapshot Wisconsin is new to Outdoor Skills Day this year. From the Wisconsin Department of Natural Resources, Snapshot Wisconsin "is a partnership to monitor wildlife year-round, using a statewide network of trail cameras."
"I enjoy working with the youth and the families," said Tollefson. "And I'm passionate about the outdoors. Those go hand-in-hand for me and that's what makes this event so enjoyable."
Drawings will be held for door prizes and a food stand will be operational.
Additional information can be found at www.swtc.edu/outdoorskills or by calling 608-822.5547.