For Immediate Release
Contact: Kim Schmelz, Foundation Director
Phone: 608.822.2379
Mail: 1800 Bronson Blvd., Fennimore, WI 53809
Date of Release: April 19, 2021
Samantha Brooks, 2014 alumna and Grant Regional Health Lab Manager
Fennimore
-
Southwest Wisconsin Technical College is very proud to celebrate Medical Laboratory Professionals Week by highlighting our graduates who have taken the skills and knowledge they gained through their education and have put it to work in the field.
Samantha (Goodman) Brooks is a 2014 graduate of the Medical Laboratory Technician Associate degree program.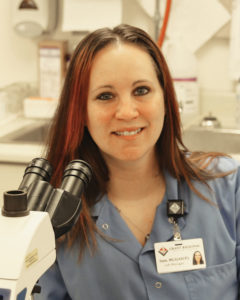 What drew you to the Medical Lab Tech field?
I was at a point in my life where I knew that I needed a change and I needed to start getting serious about my future.  I knew I wanted to do something in the medical field because there is always going to be a demand.  I also knew that I wanted something behind the scenes where I could make a difference and something that would allow every day to be different and not the same old routine.  With the Medical Lab Tech field, it checked all of my boxes that I was looking for!
Why did you choose Southwest Tech?
I grew up in Patch Grove and later moved to Fennimore, where I started my family.  So when I decided it was time to go back to school, Southwest Tech came first to mind.  I knew people who graduated from there in the past and were succeeding in their career choices.  Also, it was close to home.  I didn't have to worry about relocating to attend school.
What's something you think every student should participate in during their time at Southwest Tech?
Students should try to be involved in the variety of activities or groups that are available at SWTC.  They will gain lifelong friends, along with a support system to help them throughout their lives.
What are you proudest of in relation to your degree and career?
My degree from SWTC has open so many doors in my life that would not have been possible without it.  I am able to do something that I love and I don't dread going to work every day.  I have met people that not only support me in my professional life but also in my personal life.
Explain your role at Grant Regional and how you're utilizing your degree and other skills learned at Southwest Tech.
I am the laboratory manager at Grant Regional Health Center in Lancaster, WI.  I am responsible for the organization, coordination, and management of the day-to-day operations of the hospital laboratory and all primary care clinic laboratory sites (Lancaster, Potosi, and Cassville).  Every day I utilize the skills that I learned from the Medical Laboratory Tech program, whether it be running the daily controls, running samples on the various analyzers, drawing out patients, etc.  Southwest Tech was a stepping stone in my career path and I wouldn't be successful without the knowledge and experience that I obtained while earning my degree there.