For Immediate Release
Contact: Daniel Wackershauser, Marketing Specialist
Phone: 608.822.2303
Email: dwackershauser@swtc.edu
Mail: 1800 Bronson Blvd., Fennimore, WI 53809
Date: August 1, 2018
Scholarships bring students closer to their dreams
Fennimore
-
Southwest Wisconsin Technical College students Marie Stimpson (pictured right) and Emily Schumacher have lofty dreams. Thanks to substantial scholarships, including a $10,000 award, those dreams are well within reach.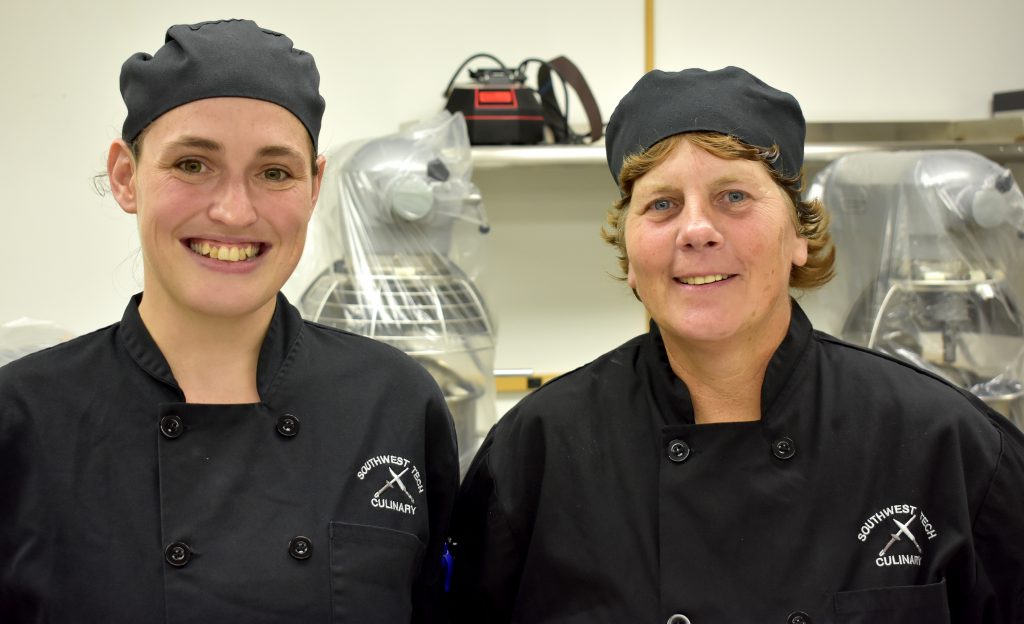 Stimpson, 54, a Wauzeka, Wisconsin native and military veteran, is studying culinary arts, before advancing to the culinary management program. She has been awarded a $10,000 National Restaurant Association Educational Foundation scholarship. "I was just ecstatic," she said. "It's a great feeling… I'm honored."
In addition, Stimpson also earned a $450 scholarship from Phi Theta Kappa and the Greg (Gregor) Gorman Memorial Scholarship, worth $350.
Upon graduation, her hope is to open a bakery. "My favorite is homemade candy and pastries and all of that stuff because, who doesn't love that? I love to see the smiles on people's faces," she said. Stimpson occasionally brings her homemade treats to campus for faculty, staff, and students.
"I love this college," said Stimpson. "I loved it even before I received the scholarships. The instructors, Karen Bast and Jeff Dombeck are awesome."
Schumacher, 24, a Richland Center, Wisconsin native, is also studying culinary arts and her goal is to own and operate her own restaurant. Her alternate plans include being a health inspector or a food critic.
She earned a $750 scholarship from the Wisconsin Restaurant Association.
Both Schumacher and Stimpson, along with their classmates, were required to apply for scholarships as part of their class by Dombeck. "I was surprised and very grateful and thankful to Jeff, really for pushing us to apply," said Schumacher. "I am now applying for more scholarships. It motivates me more when someone else actually believes in me. It gives me confidence."
To learn more about the culinary programs at Southwest Tech, visit www.swtc.edu/culinary.