For Immediate Release
Contact: Kim Schmelz, Foundation Director
Phone: 608.822.2379
Mail: 1800 Bronson Blvd., Fennimore, WI 53809
Date of Release: April 8, 2021
Southwest Tech employees recognized for integrity, continuous improvement and educational goals
Fennimore
-
Three Southwest Wisconsin Technical College employees were recognized with awards at the Southwest Tech All-Staff Spring In-Service on Thursday, April 1. Employees were recognized with the Wood Family Excellence award and the Nicholas' Servant Leadership award.
Southwest Tech President Jason Wood and his wife Kathryn established the Wood Family Employee Excellence Award to recognize current faculty and staff for service to the college that goes above and beyond while demonstrating the values of the college. Gina Trollop and Emily McBee were recognized with this year's award.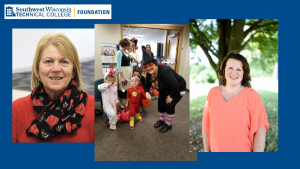 Trollop, mental health counselor for Southwest Tech students, was recognized for all the work she's done with students to get through a very difficult year. One of her nominations stated, "Thank you for connecting with our students, helping them through their challenges, referring them to the appropriate resources, and just being there for them. Your efforts are making a difference!"
McBee, Child Care Center manager and instructor, was recognized for maintaining a healthy environment of open communication, transparency, and dedication with parents in the center – while showing compassion and understanding for each family's situation throughout the past year in addition to the work she did to secure a $20,000 grant for the Center through the State of Wisconsin Department of Children and Families. "Her actions have improved the reputation of the college in the community," said one nominator. "Emily's leadership, planning, and guidance have provided a safe environment for the children and staff at the Southwest Tech Daycare Center. We are blessed and lucky to have an awesome leader," said another nominator.
The Nicholas' Servant Leadership Award was established by Karen Campbell, executive services director, to support employees continuing their education. The 2021 recipient was Beth Cummins, flexible learning coordinator at Southwest Tech.
Cummins will be finishing her degree in Business Administration from Franklin University in June 2021. "With the knowledge I have obtained in my degree, I plan to encourage others to lead with their strengths," Cummins said in her application.  ​
In relation to servant leadership, Cummins stated, "​I strive every day to serve the college by serving others. I exhibit the characteristics of servant-leadership by offering advice to my colleagues about how to best use Schoology or by helping a student navigate submitting an assignment or taking a test for the first time in Schoology. Each time I help a new student, I think back to when I was a brand new student at Southwest Tech and all the things I didn't know. When I empathize with the student, it helps them to understand that it is okay that they do not know everything right away and that I am there to help them. I attempt to listen for understanding not just to answer. This quality has helped me to gain the respect of those I work with and allowed me to build community and trust."