For Immediate Release
Contact: Kim Schmelz, External Relations & Alumni Development
Phone: 608.822.2379
Email: kschmelz@swtc.edu
Mail: 1800 Bronson Blvd., Fennimore, WI 53809
Date: February 23, 2017
Southwest Tech Foundation Receives Gift from Wisconsin Association of College Stores To Help Students
Fennimore
-
The Southwest Tech Foundation received a $1,000 donation from the Wisconsin Association of College Stores, WACS, to support students at Southwest Tech.  Nancy Devlin, Southwest Tech bookstore manager, and Jen Fonder, bookstore assistant, directed the Foundation to use the donation to support four student support funds – Feed a Charger, Charger Cupboard, Little Red Basket, and the Gas Card fund.
"We chose to support these funds with the WACS donation because we believe these funds will touch a large number of students in some way.  We also like that these funds can be accessed by students all year to meet an immediate need," said Devlin.
Annually the WACS makes a donation to a member store's college Foundation in honor of Sue Nebling.  Nebling was a driving force in the inception of WACS and contributed significantly to the state association and the National Associates of College Stores (NACS).
"Thank you to the WACS for supporting member colleges in Sue's honor each year.  This year's donation to the Southwest Tech Foundation will help many students facing challenges related to hunger, transportation, and personal hygiene," commented Holly Clendenen, Executive Director of the Southwest Tech Foundation.  "Nancy and Jen's decision to help students this way with the donation demonstrates how they are in-touch with students' day-to-day needs."
For more information on how to give a donation to help students at Southwest Tech, contact the Southwest Tech Foundation at 608.822.2362.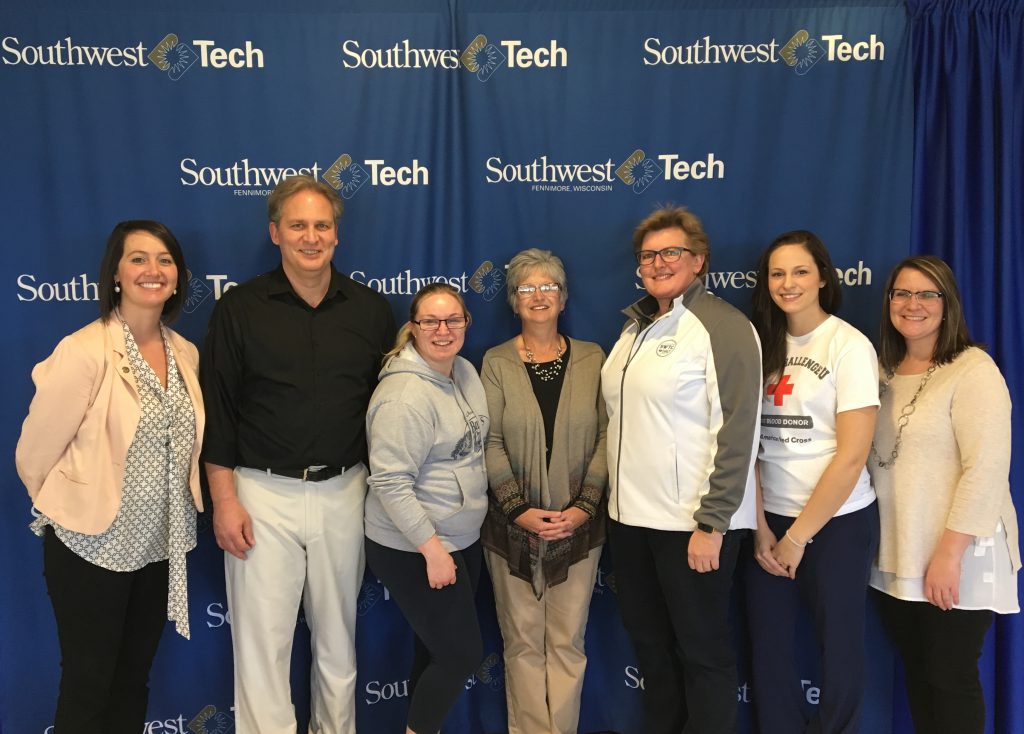 The Wisconsin Association of College Stores donated $1,000 to the Southwest Tech Foundation and bookstore staff directed the funds to be used for 4 student support funds. Pictured are Southwest Tech staff and students Holly Clendenen, Foundation Executive Director; Rex Smith, Dining Services Manager and Feed a Charger founder; Courtney Friese, nursing student; Nancy Devlin, Bookstore Manager; Jen Fonder, Bookstore Assistant; Christina Lutz, nursing student; and Chantel Hampton, Social Science Instructor and Little Red Basket founder.