For Immediate Release
Contact: Katie Glass, Marketing Manager and Public Information Officer
Phone: 608.822.2411
Email: kglass@swtc.edu
Mail: 1800 Bronson Blvd., Fennimore, WI 53809
Date: September 26, 2017
Southwest Tech Provides Opportunities for Students While Improving Infrastructure
Fennimore
-
The Information Technology Services (ITS) department at Southwest Tech is currently undertaking a project that will provide the foundation for current and future educational opportunities for students and college departments.  This includes improvements to the wireless and wired internet systems to increase bandwidth capacity, improve reliability, and tighten security.
While this large-scale project will benefit the college as a whole, Heath Ahnen, Director of ITS, and Aaron Holverson, Network Communications Specialist Instructor, decided to use this unique opportunity to connect real-world network administration experience to the classroom.  The processes involved with such a project are closely tied to the content of the college's Network Specialist associate degree program, and one student, Chris Tipton (Platteville, WI/Cedar Rapids, IA) was selected to be part of the team working in ITS.  "ITS wants to embrace the academic side of Southwest Tech through partnerships that will provide work-related experiences for students," commented Ahnen.
Tipton was selected as an intern after working in ITS over the summer and receiving recommendations from his instructors. As a non-traditional student who previously worked as an electrician in Cedar Rapids, IA, Tipton was very certain about what he wanted from an education. "I decided I wanted to do a job where I'm using my head more than my body," said Tipton.  He researched schools looking for post-graduation job placement rates and starting salaries and found that Southwest Tech provided an affordable option with outstanding outcomes.  As a husband and father of four, having understanding instructors was also important. "I love how involved and helpful my instructors are and how interesting they make each class," commented Tipton.
The project and internship will conclude in January 2018, and both departments will be seeking ways to continue to improve campus and partner to provide learning opportunities for students.
###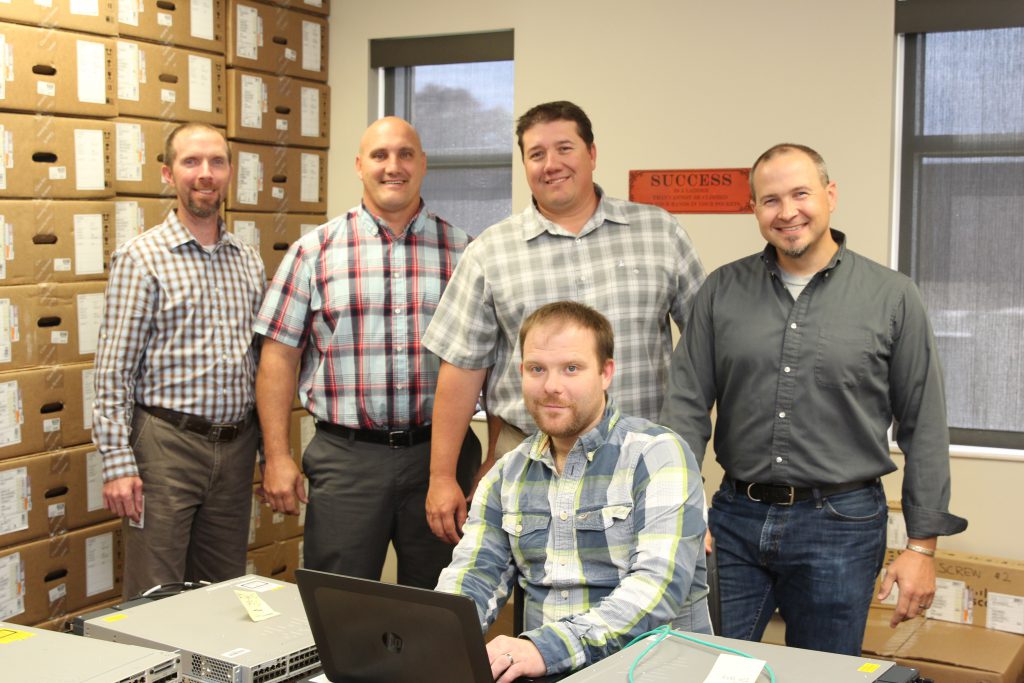 Photo Caption: From Left to Right: Dave Friesen, Network Administrator; John Troxel, Network Administrator; Heath Ahnen, Director; Aaron Holverson, Network Communication Specialist Instructor, Front: Chris Tipton, Network Specialist Associate Degree Student and ITS Intern