For Immediate Release
Contact: Kim Schmelz, External Relations & Alumni Development
Phone: 608.822.2379
Mail: 1800 Bronson Blvd., Fennimore, WI 53809
Date of Release: October 16, 2020
Southwest Tech receives $5,000 donation from Community First Bank
Fennimore
-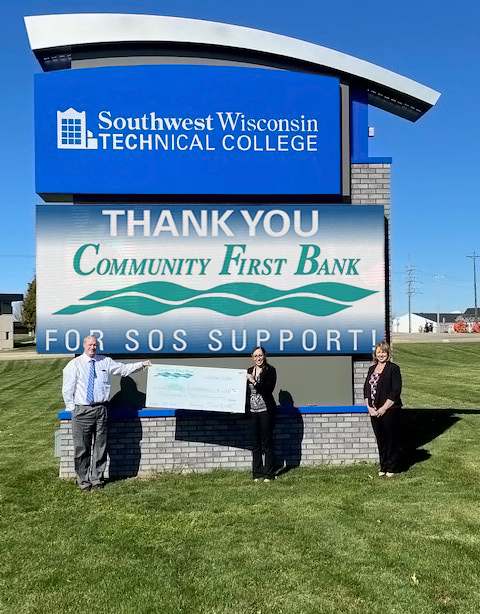 The Southwest Tech Foundation received a generous $5,000 donation from Community First Bank through their partnership with the Federal Home Loan Bank of Chicago's Targeted Impact Fund to support relief efforts for populations hit hardest by COVID-19 as well as promote equity and opportunity for communities of color.
The donation will be used for the Foundation's Support Our Students (S.O.S) fund that was developed to assist students in the most impactful ways possible during the COVID-19 crisis. To date the S.O.S. fund has assisted students with more than $7,000 in payments made to third parties to help pay for rent, technology, car payments and other needs due to the shortage of hours at work, the loss of jobs and sickness and death of a family member due to COVID-19.
"Community First Bank's most recent gift to our Support Our Students (S.O.S.) Fund will allow the Foundation to continue to support students' impacted by COVID-19 at a critical time as we enter the second half of the fall semester and transition more theory-based classes to an online or virtual delivery. Because of the donors to the S.O.S. Fund, we've been able to help students faced with job loss and reduced work hours as well as healthcare and technology expenses.  The S.O.S. Fund is an emergency net that can catch these students and help keep them on their college path during this time of uncertainty.  Community First Bank is a long-standing partner to Southwest Tech, and their continued support is greatly appreciated and makes a difference for our students," said Holly Clendenen, Executive Director, College Advancement, Foundation and Real Estate Foundation.
The mission of the Southwest Tech Foundation is to promote learning through funding and activities that enable Southwest Tech to provide opportunities for success. For more information on the S.O.S. fund or other ways you can support the Southwest Tech Foundation, contact foundation@swtc.edu or by calling 608.822.2362.