For Immediate Release
Contact: Kim Schmelz, External Relations & Alumni Development
Phone: 608.822.2379
Email: kschmelz@swtc.edu
Mail: 1800 Bronson Blvd., Fennimore, WI 53809
Date: March 30, 2017
The RAYOVAC® Fennimore Plant Provides Endowment for Southwest Tech Students
Fennimore
-
RAYOVAC®, a division of Spectrum Brands, Inc. has pledged to endow annual scholarships for Southwest Tech students in order to provide support for many years to come.
The RAYOVAC Alkaline Battery Plant, which opened in Fennimore in 1970, is the third leading U.S. manufacturer of alkaline batteries. RAYOVAC also offers a portfolio of flashlights and other batteries such as hearing aid, computer backup, heavy duty, lantern, rechargeable, and specialty. The company has played a key role in the U.S. battery industry since the early 1900's and employs 280 people locally.
RAYOVAC® has been awarding scholarships to SWTC students in the Electro-Mechanical Technology program and the Industrial Mechanic program since 2000. This new endowment will provide annual scholarships perpetually.
"The partnership between RAYOVAC and SWTC began in 1969 when the first Plant Manager, Harry Monroe, visited the school and spoke about the needs of having a skilled workforce for the new plant opening in Fennimore in 1970. It has been a strong and successful partnership that we are proud to support for many years to come," stated Jim Stoeffler, retired Director of Human Resources at RAYOVAC and a 1971 graduate of SWTC. "As we celebrate the college's 50th anniversary, I am grateful our longtime partner RAYOVAC® chose to endow their scholarships so that our students are supported for the next 50 years and beyond. Endowed scholarships are a top priority to the College and Foundation because of their long-lasting impact on students," stated Holly Clendenen, Executive Director of the Southwest Tech Foundation.
The Southwest Tech Foundation was incorporated in 1980 to identify, solicit, and manage alternative funding sources to support the commitment to excellence of Southwest Wisconsin Technical College. The Foundation is dedicated to providing financial support for Southwest Tech's programs, students and staff. For more information on how to support scholarships or other support funds, contact the Southwest Tech Foundation at 608.822.2379.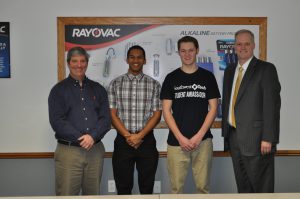 From left to right: Division Vice-President of Rayovac, Mike Dragoo, Jaren Knight and Benjamin Graves, Southwest Tech students and Jason Wood, Southwest Tech President.