Alumni Stories – Molly Rivers
A 2007 graduate of Southwest Tech from the Barber/Cosmetology program, Molly Rivers has always possessed a passion for and a love of hairstyling.  With over 12 years of experience in the Hair and Beauty industry, the first seven years working behind a chair, Rivers took a leap of faith and moved to Nashville, Tenn. to follow her dreams and focus on styling, which is what she really loves.
Rivers is now a freelance hair stylist in Nashville, specializing in music videos, editorial, film, red carpet, runway and bridal.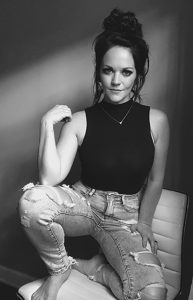 Over the last five years, she's built a solid reputation and client list based on talent, hard work and incredible results. Along with her professionalism and all-around bubbly personality, Rivers earned some great opportunities, including working on the set of two feature films, a Netflix series, a Florida Georgia Line music video, an Imagine Dragons music video, and other productions. She has also styled hair for the 2018 ACM Awards and 2019 CMT Awards, working with celebrity clients including Runaway June and assisting with Maddie and Tae.
Outside of the music and film industry, Rivers averages about 45 weddings a year. She travels to different cities styling hair for Miss United States Pageants and has worked in New York City for fashion shows. She also worked with a team of women doing hair and makeup for the Tennessee Titans cheerleaders for home games, photo shoots and events.
Rivers firmly believes in following your dreams and doing what you love, often quoting "Choose a job you love and you'll never have to work a day in your life."