Jalysa Turner. Mom. Wife. Survivor. GED And HSED Completer. Future Criminal Justice – Law Enforcement Student.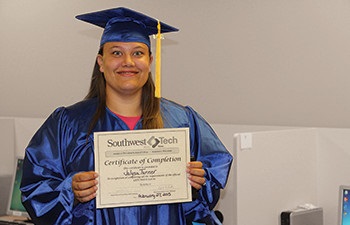 Jalysa grew up in the system. Luckily, she had great foster parents. She and her sister were placed with the same family and her brother was separated with another family, only two miles down the road.
"My foster parents allowed me to have a picture of my mom. They knew they weren't replacing my parents. We were lucky to be with such a nice family."
At the age of 15, she was on her own.
"I didn't have a clue. I knew I wanted to finish school and go to work, but that didn't happen. I was able to find a job at Swiss Colony, so I started working."
Her husband, Josh, received his HSED through Southwest Tech and was in the process of taking the IT-Network Communication Specialist Associate Degree program.
"I wanted to get my HSED, but I didn't know how. Josh encouraged me to come to Southwest Tech."
Josh was just one of Jalysa's driving forces.
"I am doing this for my daughter. I want to better her life and give her what I didn't have."
Jalysa earned her HSED in August of 2015.
"It's like a weight lifted off my shoulders. I can't wait to continue my education and will be completing my application to enroll in a program at Southwest Tech."
In September 2015, Jalysa was accepted into the Criminal Justice – Law Enforcement program.
"I like to help people. Criminal justice is really my big dream. I want to listen to people and help them."
Jalysa has some words of advice to others seeking to receive their HSED and continue their education.
"Come here. Come to Southwest Tech. They can help you. The people really care and that care will help drive you."