For Immediate Release
Contact: Daniel Wackershauser, Marketing Specialist
Phone: 608.822.2303
Mail: 1800 Bronson Blvd., Fennimore, WI 53809
Date of Release: October 6, 2021
Business and education leaders to meet at Southwest Tech
Fennimore
-
Leaders from throughout the area will be at Southwest Wisconsin Technical College on Friday, Oct. 22 for the 16th annual Southwest Wisconsin Business and Education Summit. The event, sponsored by Southwest Tech, CESA #3 and Prosperity Southwest, will allow for the sharing of ideas between educational and business partners in the region.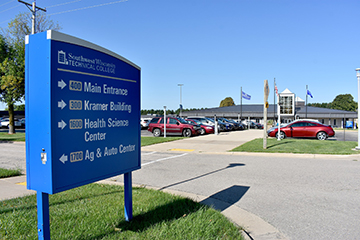 "The Southwest Wisconsin Business and Education Summit is our (CESA #3) one crucial moment to hear from industry, chambers of commerce, workforce and economic development partners, etc. about what they see as the issues that stare them and all of us in the eyes as a region today," said Tom Martin, a Career and Life Ready coordinator, and member of CESA #3's Career and Life Ready team. "Knowing their challenges ultimately determines what we (change agents at CESA #3) can do for and with them."
The focus of this year's summit is on manufacturing, which ties in with the regional career pathway that is being developed in the area, according to Mary Johannesen, Career Prep and Dual Enrollment Coordinator at Southwest Tech, and member of the summit planning committee.
There are some partnerships already in place between Southwest Tech and area school districts. Examples include the CNC program being offered at Platteville High School, which is allowing seven of their seniors to earn a technical diploma at the same time as their high school diploma. Fennimore High School offers a welding academy, which allows their students to take a welding course at the high school and to get a head start on the Southwest Tech program. "Other opportunities are continually being explored to give students even more options," stated Johannesen.
Topics outlined for the day include, "Current Job Trends and Registered Apprenticeship," "Regional Discussions: Creating a Pipeline to Retain Local Talent to Meet Employer Needs," and more. "We all know about the workforce shortage, but many of our youth do not know about the career opportunities available here in our region, and our hope is to educate both the students, and also the teachers of the opportunities and skills needed for our regional opportunities," said Ron Brisbois, past president of Prosperity Southwest, the regional economic development organization serving six counties in Southwest Wisconsin (Crawford, Richland, Grant, Green, Iowa and Lafayette). "This region has done very well in connecting our students to our businesses, but much more can still be done. My hope is that we are able to keep more of our youth in our region, which in turn will allow them to settle here and start families and be an important part of our community and future."
"As our region's renown ally, CESA #3 hopes to embolden current as well as incubate new relationships in order to create action plans that have attainable objectives we can accomplish," said Martin. "CESA #3 is a servant led organization, so our professional efficacy comes in creating positive change throughout the region. Ultimately, when we assist high school students to become as career and life ready as they can be, we contribute to our region. When we know what our partners need we can better relay that to our k-12 district partners who then together (K-12 and CESA #3) utilize best practices for total student career and life readiness."
Alefiya Master, founder and CEO of the award-winning app development program, MAD-learn, will be the keynote speaker. She believes that enabling students to have passion-driven career choices should be a key focus for schools. She has founded and grown two EdTech companies that now impact more than 30,000 students in 30 states and five countries.
In addition, Joshua Johnson, director, Jobs for The Future, Center for Work-Based Learning and Apprenticeship, National Diversity, Equity and Inclusion Center for Apprenticeship, will discuss current job trends in the region and state, and will also address the hiring of students under the age of 18 in the manufacturing field.
"Our team is adamant about the career and life readiness of all our students," said Martin. "We understand that when we do our best to prepare them in high school then industry will see our students for their enhanced value. When career and life ready, industry can essentially entrust students with further technical, leadership and life skills, which not only creates occupational efficiencies but a future workforce prepared to take on the 21st century."
"My hope for the summit is to further develop the connection between K-12 schools and our businesses, and to learn about the future employment opportunities our young people have in the region," said Brisbois.
The free event will be held from 9 a.m.–2:30 p.m., with registration at 8:30 a.m. Lunch will be provided. Per Southwest Tech's COVID-19 safety policy, masks will be required for attendance. Registration information can be found at https://docs.google.com/forms/d/e/1FAIpQLSccbz0fP3C8xvSINMaPTqQZ9otd1bGRfCFlA9OmgWnCqNo8MA/viewform
| Southwest Wisconsin Technical College is one of 16 institutions that comprise the Wisconsin Technical College System. Southwest Tech offers more than 60 programs in a wide variety of disciplines. Courses are offered on campus, online and in a blended format. The college provides apprenticeship, certificate, technical diploma, and associate degree programs that respond to district workforce needs and prepare student for family-sustaining jobs and career advancement. |