For Immediate Release
Contact: Daniel Wackershauser, Marketing Specialist
Phone: 608.822.2303
Mail: 1800 Bronson Blvd., Fennimore, WI 53809
Date of Release: September 28, 2021
Southwest Tech lands in top 10 nationally
Fennimore
-
Southwest Wisconsin Technical College is ranked ninth in Value College's Top 50 Technical Schools for 2021 list. Southwest Tech, located in Fennimore, Wisconsin, offers more than 60 programs, in a variety of formats.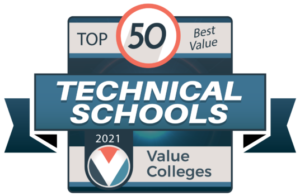 According to the college's most recent Graduate Success Report, 83-percent of graduates are employed within Wisconsin and 97-percent of graduates are satisfied or very satisfied with their training. In addition, 93-percent of graduates were employed within the first year of graduation.
"This ranking, and many like it, continue to shine light on the great things we are doing," said Dr. Jason Wood, Southwest Tech president. "We take great pride in offering our students a quality, active education that will ultimately benefit them and their families."
The colleges are ranked according to factors including cost, potential salary, and student reviews, using data from IPEDS (Integrated Postsecondary Education Data System) and Niche. The full rankings can be found at https://www.valuecolleges.com/ranking/best-trade-schools/.
The purpose of Value Colleges is to guide students to schools and degree programs that will pay off in their life and career. "That's why our rankings of the best trade and tech schools features only accredited institutions with a career and occupational focus," according to the Value Colleges' website.
To learn more about Southwest Tech, visit www.swtc.edu/apply.
 About Value Colleges
Value Colleges offers researched, straightforward, and practical answers to commonly asked questions about value and affordability when making college decisions.
| Southwest Wisconsin Technical College is one of 16 institutions that comprise the Wisconsin Technical College System. Southwest Tech offers more than 60 programs in a wide variety of disciplines. Courses are offered on campus, online and in a blended format. The college provides apprenticeship, certificate, technical diploma, and associate degree programs that respond to district workforce needs and prepare student for family-sustaining jobs and career advancement. |