For Immediate Release
Contact: Katie Glass, Marketing Manager and Public Information Officer
Phone: 608.822.2411
Email: kglass@swtc.edu
Mail: 1800 Bronson Blvd., Fennimore, WI 53809
Date: June 26, 2017
Case IH NAFTA, Finney Implement, Inc, and Southwest Wisconsin Technical College Enter Long Term Partnership
Fennimore
-
FENNIMORE, Wis. – On June 22, Southwest Tech signed a long term agreement with Case IH NAFTA and serving dealer, Finney Implement, Inc. of Lancaster, Wis., to engage students and the community with the latest agricultural equipment technology. Case IH proposed a ten year commitment to provide new Case IH equipment to meet the annual needs for technical training and farming operations at the college.
Patricia Lardie, National Government Accounts Manager for Case IH stated in a letter to Southwest Tech that CASE IH sincerely believes that the agricultural educational experiences can be further heightened with access to the latest farm equipment technology for the education of Southwest Tech students and outreach for the community. It is the hope of Case IH that by providing these opportunities, their training will deepen their passion and commitment to continue the farming traditions of their families.
John Finney, Sales Manager for Finney Implements Inc. and longtime Southwest Tech Agricultural Power & Equipment Technician Advisory Board member, added that every implement dealer he's hired has been trained at Southwest Tech. He feels that being trained with the latest technology is key to employability. He hopes that the partnership between Southwest Tech and Finney Implements Inc. will ensure that Southwest Tech students continue to be the most prepared employees in the field of agriculture.
Over the last two years, Southwest Tech made it a strategic priority and invested resources to expand the Ag Department from four programs to fourteen programs and two certificates. Those fourteen programs include two-year associate degrees, two-year technical diplomas, one-year technical diplomas, and adult farm management continuing education classes.
For more information on agriculture education at Southwest Tech, please contact Deb Ihm, Director of Agriculture,  at 608.822.2741 or dihm@swtc.edu.
###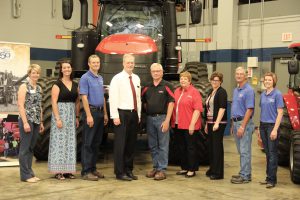 In attendance for the signing of the Case IH NAFTA, Finney Implement, Inc, and Southwest Tech Sign Agreement were left to right:
Kim Schmelz (Southwest Tech), Holly Clendenen(Southwest Tech), John Kvigne (Southwest Tech), Dr. Jason Wood (President of Southwest Tech), John Finney (Finney Implements Inc.),  Patricia Lardie (Case IH), Tonya Lambeth (Case IH), Pete Hoffman (Southwest Tech), and Deb Ihm (Southwest Tech)