For Immediate Release
Contact: Daniel Wackershauser, Marketing Specialist
Phone: 608.822.2303
Email: dwackershauser@swtc.edu
Mail: 1800 Bronson Blvd., Fennimore, WI 53809
Date of Release: May 8, 2020
Elfering sees advantages in University Transfer Degree
Fennimore
-
Noelle Elfering has taken advantage of the University Transfer Degree program at Southwest Wisconsin Technical College, in partnership with Nicolet College, and plans to graduate this winter, before moving on to UW-Platteville. The Barneveld, Wisconsin native will be pursuing a career in English education.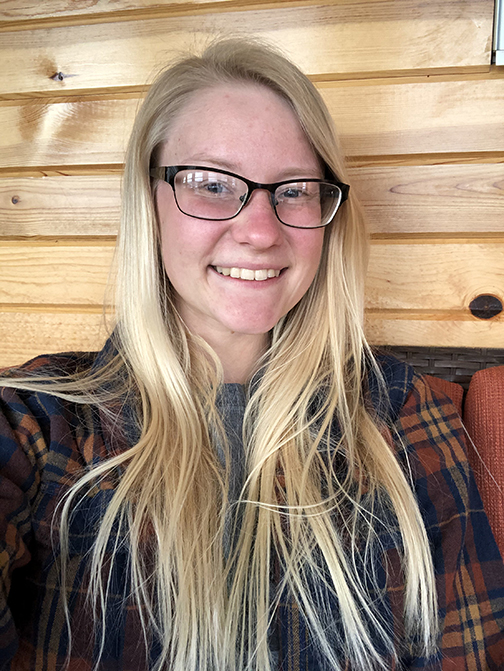 Elfering is earning her general education credits at Southwest Tech, and saving a great deal financially in the process. "I knew I wanted to transfer to (UW) Platteville and I knew I wanted to get there somehow, but I wanted to do it through a cheaper way, if possible," said Elfering.
In addition to the tuition affordability, Elfering earned a Technical Excellence Scholarship worth $2,400, valid for three years, upon entering Southwest Tech.  In addition, she was eligible for other multiple scholarships and was awarded the Lenz Scholarship last year. "That's quite significant," she said.
Once on campus, Elfering knew she made the right decision. "I really like the staff at Southwest Tech," she said. "I liked the classes that I was able to take at Southwest Tech. I like the variety. The English class I took this last semester really got me thinking more about English education."
The courses that Elfering has been taking have been a mix of on campus and online selections. Students generally complete the 60-credit University Transfer Liberal Arts Associates Degree over the course of two years, however, she will complete it in a year-and-a-half because she entered Southwest Tech already with college credits.
As for any advice for others who are looking at their college options, Elfering says Southwest Tech is a solid choice. "I'd recommend it, if you don't know what you're going into especially," she said. "It's an easier way to save money, rather than going to any university as undecided. You can get some of those gen eds done without paying those high rates."
"Southwest Tech is a really nice college and I'm very glad I went there," she added. "I've had good experiences with everyone there."
To learn more about the University Transfer Degree, check out the Facebook Live event on Thursday, May 14: www.swtc.edu/askacharger.
|Southwest Wisconsin Technical College is one of 16 institutions that comprise the Wisconsin Technical College System. Southwest Tech offers more than 60 programs in a wide variety of disciplines. Courses are offered on campus, online and in a blended format. The college provides apprenticeship, certificate, technical diploma, and associate degree programs that respond to district workforce needs and prepare student for family-sustaining jobs and career advancement. |