For Immediate Release
Contact: Daniel Wackershauser, Marketing Specialist
Phone: 608.822.2303
Email: dwackershauser@swtc.edu
Mail: 1800 Bronson Blvd., Fennimore, WI 53809
Date of Release: May 8, 2020
Special video to highlight Southwest Tech graduates
Fennimore
-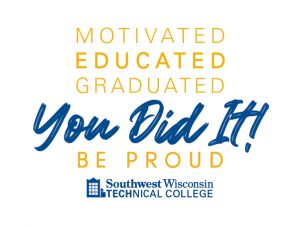 Given the public health crisis that has been created by the COVID-19 virus, the scheduled May 15 and 16 graduation ceremonies at Southwest Wisconsin Technical College were postponed. In its place, a special video is being produced to honor the spring semester graduates. In addition, college officials are planning an opportunity to gather and recognize the graduates' success when it is safe to do so. Graduates are also invited to participate in the December graduation ceremony and have the opportunity to walk across the stage.
"We know this has been a challenging time for our students, including our spring graduates," said Dr. Jason Wood, Southwest Tech president. "Each semester culminates with a very important graduation ceremony, something that all our graduates have earned. We know this video will not replace that experience, however, we want to honor their dedication, passion and commitment to their education."
In partnership with Empire Photography, in Madison, Wisconsin, all graduates will be showcased in the video. Additionally, Wood and Chuck Boldstad, chairperson of the Southwest Tech District Board of Directors will offer inspiring messages to the graduates. Student speakers who were originally scheduled to speak at the ceremony will offer words of wisdom to their peers. The video will also include well wishes from faculty and staff.
The video is currently in production and will be released soon. Updates can be found on the Southwest Tech Facebook page. The video will be posted on the college's website, Facebook, YouTube, Twitter, LinkedIn and Instagram.
All graduates will also be receiving a gift box in the mail, which will include their diploma, honor cords, tassels, and a one-of-a-kind Class of 2020 T-shirt.
The names of all spring graduates can be found at www.swtc.edu/classof2020.
The student speakers showcased in the video include:
• Megan Hanold
Hometown: I was born and raised in Lancaster, Wisconsin. My husband and I currently reside in Prairie du Sac, Wisconsin, and have lived there the last four years.
Program: Associate Degree Nursing Program
What did you do before you came to Southwest Tech? Before nursing school, I was working as a product and service solutions specialist at Credit Union National Association (CUNA) in Madison, Wisconsin, where I developed virtual webinars, trained credit union professionals, organized and traveled to various training conferences across the United States, as well as managed the sales and marketing for an unlimited webinar package.
Your plans after graduation? My immediate goals are to pass the NCLEX-RN and accept a nursing position in the Madison or Sauk area. My ultimate goal is to work in labor and delivery, and eventually become a certified nurse-midwife.
Campus involvement: Member of the Student Nurses Association (SNA), which included volunteering at the biannual campus blood drives, speaking to the 2021 nursing class during their orientation to the program, and raising overall awareness of SNA with various fundraising opportunities.
• Dalton Nohns
Hometown: Dodgeville, Wisconsin
Program: Welding 2016, Precision Machining 2018, Business Management 2020
What did you do before you came to Southwest Tech? After high school I took a year off and worked at Land's End to save up money to go to school for welding. I got a job as a welder and started doing manual machining there. I then decided to go to school for machining. After machining I got a job as a CNC machinist and decided to go back to school for business.
What are your plans upon graduation? I plan to stay in southwest Wisconsin and continue to work at Ringbrothers.
Campus involvement: Pistol team, helped with welding and machining after I graduated from them.
• Catie Kreul
Hometown: Dodgeville, Wisconsin
Program: Medical Laboratory Technician
What did you do before you came to Southwest Tech? Before I began at Southwest Tech I was a military wife and stay at home mom.
What are your plans upon graduation? I have already been hired and will start working at Lafayette County Memorial Hospital a week after graduation. I also intend to work for a year and then start working on getting my Bachelor's Degree in Medical Laboratory Science.
Campus Involvement: Student Senate representative for the MLT program and volunteered to represent the program during Career Days.
• Cole Deitchler
Hometown: Volga, Iowa Program: Agribusiness Science and Technology – Agronomy
What did you do before you came to Southwest Tech? I attended Central Community School in Elkader, Iowa and worked on the family farm.
What are your plans upon graduation? After graduation I will be assisting local farmers with precision agronomy and continue working on our family farm.
Campus involvement: While on campus I was involved in PAS Club and FARM Club.
• Sherreallyum Allen
Hometown: Arena, Wisconsin
Program: Associate Degree Nursing
What did you do before you came to Southwest Tech? Before l came to SWTC l was a certified nursing assistant, working in home health and an EMT in Arena.
What are your plans upon graduation? My plans after graduation are to get a job in a hospital and start my Bachelor's degree in nursing.
• Abbie Pickett
Hometown: Boscobel, Wisconsin
Program: Liberal Arts
Background: I graduated from North Crawford High School. I played softball and volleyball all throughout high school and spent most of my weekends babysitting. Then I went right to Southwest Tech after high school.
Plans after graduation? I'm not 100 percent sure, but I am thinking about transferring to Winona State University for business management or accounting maybe.
Campus involvement: I serve as a student ambassador and the Student Senate president
| Southwest Wisconsin Technical College is one of 16 institutions that comprise the Wisconsin Technical College System. Southwest Tech offers more than 60 programs in a wide variety of disciplines. Courses are offered on campus, online and in a blended format. The college provides apprenticeship, certificate, technical diploma, and associate degree programs that respond to district workforce needs and prepare student for family-sustaining jobs and career advancement. |