For Immediate Release
Contact: Daniel Wackershauser, Marketing Specialist
Phone: 608.822.2303
Email: dwackershauser@swtc.edu
Mail: 1800 Bronson Blvd., Fennimore, WI 53809
Date of Release: September 5, 2019
Faculty assists producers at annual Chipper Day event
Fennimore
-
Agriculture faculty from Southwest Wisconsin Technical College assisted area producers during the annual Silage Chipper Day event in Stitzer, Wisconsin. Producers had the opportunity to bring whole plant corn stalks to Reddy Ag/Ross Soil Service from 10 a.m. – 2 p.m. for sampling on Sept. 4.
"We want to make sure we're harvesting our corn silage at the optimum time," said Kory Stalsberg, farm business and production management instructor at Southwest Tech, in Fennimore, Wisconsin. "We only get one shot at harvesting corn silage. It's not like hay, where you have multiple crops a year. We have one crop, so we want to make sure that it is at the optimum point of maturity on the grain side as well as the moisture side for storage purposes."
"I anticipate producers making multiple harvests of their corn silage," added Stalsburg. "They might fill one bunk here coming up shortly, within the next week to 10 days and then take a break, come back here in another 2-3 weeks and do another storage structure, maybe lay some bags or fill a silo at a later date, just to spread that window out, and really try to maximize the starch levels in their corn silage, so allowing that corn to mature a little bit longer, before they take it for corn silage."
The annual event is a partnership between Reddy Ag/Ross Soil Service, Southwest Tech and Rock River Laboratory, Inc. It drew dozens of area producers, all wanting to learn about their corn crops. "I think it's a great partnership with our community," said Stalsberg. "Reddy Ag Service and Ross Soils, they do a ton of business in our local area here, and just being present in the community, as well as helping out with our partnership and expertise, talking with producers about storage techniques, harvest techniques, and then optimizing that harvest timing."
Judging by the numbers, this year's event was a clear-cut success. There were 250 samples processed, 66 more than during last year's event.
"I think it's been five or six years ago since we partnered with Southwest Tech and that just added to it," said Mark Brown, animal nutrition consultant at Reddy Ag/Ross Soil Service in Sitzer. "We've got the Pioneer folks with the seed, as well as Rock River. We utilize the team approach here at Reddy Ag as much as possible; Hubbard and Alltech on the feed side, the whole group on the agronomy side. And so, they are part of our team and they are here to answer questions and help out, just like always."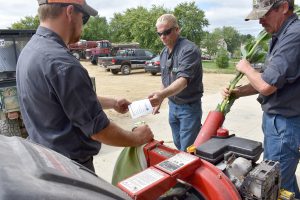 In addition to the sampling, Bill Powell-Smith, Dairy Account Manager with DuPont Pioneer, offered a presentation on "Best Practices for Corn Silage Harvest and What to Expect for 2019 Corn Silage Digestibility."
New cover crop seeding equipment was on display as well, and lunch was served.