For Immediate Release
Contact: Brianna Williamson, Assistant Recruiter
Phone: 608.822.2483
Mail: 1800 Bronson Blvd., Fennimore, WI 53809
Date of Release: May 28, 2021
Female welding graduate shares Southwest Tech experience
Fennimore
-
Taking the traditional route through life has never been the norm for Mandy Jo Ames, a 2020 graduate of Southwest Wisconsin Technical College's evening Welding program. Ames had been considering a career in welding for a number of years and, at 40 years of age, she wasn't going to let her age stop her from pursuing a new career. The Friday before classes began in January 2020, Ames submitted her application to Southwest Tech and the following Monday she walked into the first welding class of her life.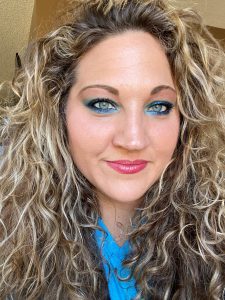 Ed Anderson, evening welding program instructor, said of Mandy Jo, "she didn't know much at all about welding so everything she learned was new and exciting. She genuinely appreciated the tools and technology we use. She was a great student and classmate. I know she will do well."
When asked about her experience in the program, Ames said, "Ed was spectacular and made it easy to learn and ask questions. The equipment at Southwest Tech is awesome and there's a lot of it, too. You learn everything at Southwest Tech. I even designed and made some of my own things, too." Ames, being an older student than most, also enjoyed being known as the "shop mom" to her classmates, who were like family.
Following graduation, she began her welding career at Universal Tank and Fabrication in Dubuque, Iowa. "I make pressure vessels and tanks for water, wastewater, air, bio-gas, and transportation systems, as well as for tanks and chemical and energy plants," she said. "I'm in the parts department, so I'm making all of the pieces that hang off of the tanks like pipes, flanges, and saddles. I basically weld gigantic parts for gigantic tanks." Ames is very proud of her work and enjoys that she very rarely does the same project twice.
As for advice she would give to anyone considering a career in manufacturing or a non-traditional program, Ames said, "Don't be afraid – if you can learn, you can do anything you want to do. You'll need to have a little gumption to help tough out the hard days, but you can do it." She added, "I was 40 years old when I started the program and have been through multiple levels of education. It doesn't matter how old you are – if you want to do it, do it! Don't worry about age and don't let it hold you back."
| Southwest Wisconsin Technical College is one of 16 institutions that comprise the Wisconsin Technical College System. Southwest Tech offers more than 60 programs in a wide variety of disciplines. Courses are offered on campus, online and in a blended format. The college provides apprenticeship, certificate, technical diploma, and associate degree programs that respond to district workforce needs and prepare student for family-sustaining jobs and career advancement. |