For Immediate Release
Contact: Daniel Wackershauser, Marketing Specialist
Phone: 608.822.2303
Email: dwackershauser@swtc.edu
Mail: 1800 Bronson Blvd., Fennimore, WI 53809
Date: June 14, 2018
Golden Knights to jump at Southwest Tech
Fennimore
-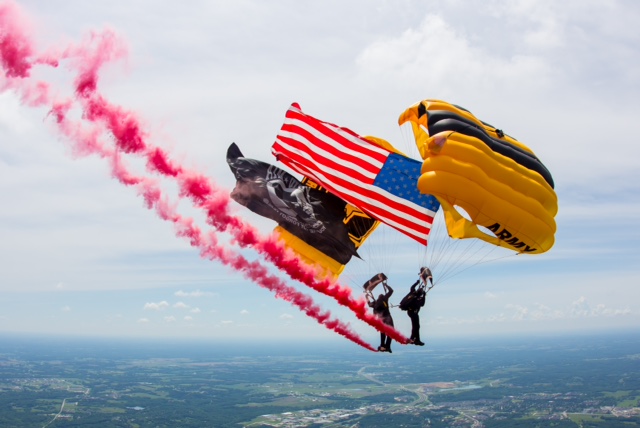 The United States Army Golden Knight Parachute Team has planned a jump into Southwest Tech on Monday, July 2. The college is hosting the free event in celebration of the July 4 holiday and to honor military personnel, past and present. Everyone is invited to attend.
The team will be landing in the west parking lot, located adjacent to the General Education Building and Child Care Center. Following the jump, which is planned for 10 a.m., the Iowa Army National Guard Boeing CH-47 Chinook helicopter will attempt to land in the parking lot as well. The American twin-engine, tandem-rotor, heavy-lift helicopter is among the heaviest lifting Western helicopters.
Children will be able to help the parachute team pack parachutes, get autographs, and tour the helicopter. In addition, there will be a face-painter on site that day as well as an information table with special Southwest Tech prizes.
"This will be a showcase day for Southwest Tech and for the community," said Katie Glass, marketing manager and public information manager at Southwest Tech. "The Golden Knights will put on a great show, plus we'll recognize our military men and women for their service to our country. It will be a great community event."
Gates for the event will open at 8 a.m. Music will be provided by Radio Dubuque. Parking will be available in the Main Lot, in front of the College Connection Building, as well as the East Lot, in front of the Ag/Auto Center Building. A limited number of handicapped parking spots will be available in the West Lot. Attendees are encouraged to bring their own lawn chairs.
Officially named the Strategic Army Command Parachute Team, the group was formed in 1959. Since then, the team has conducted more than 16,000 shows in 50 states and 48 countries, breaking 348 world records.
Special note: No drones will be allowed to fly on campus or within a five-mile radius of the event from 8–11 a.m. that day. Violators will be charged, fined, and have their drone confiscated.
For more information: www.swtc.edu/goldenknights