For Immediate Release
Contact: Daniel Wackershauser, Marketing Specialist
Phone: 608.822.2303
Email: dwackershauser@swtc.edu
Mail: 1800 Bronson Blvd., Fennimore, WI 53809
Date: August 13, 2018
Golf event to support students
Fennimore
-
The game of golf is sometimes described as a "gentlemen's game." On Friday, Sept. 7, Southwest Tech's annual Charger Golf Classic will be a day of fun for everyone. The event will be held from 11 a.m.–7 p.m. at the Platteville Golf and Country Club. The event rotates between golf courses within the college's five-county district each year.
"The Charger Golf Classic is not your typical golf tournament," said Scott Kennedy, golf course management instructor at Southwest Tech.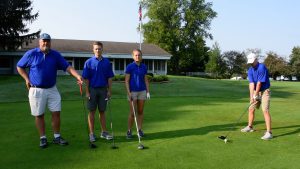 Throughout the day there will be interesting challenges, such as teeing off from a corn cob, hitting the ball while wearing a welding mask and other oddities.
"It's not real competitive, so if you want to just have some fun come on out," said Kennedy. "You don't have to be a great player to enjoy the game. We just love getting together and having some fun and there's no better place than on a golf course."
Money raised from the event will benefit Southwest Tech Foundation scholarships as well as the Southwest Tech golf team. "Scholarships are extremely important to our students," said Kennedy.
The event includes both a nine-hole and an 18-hole option, as well as opportunities for business sponsorships. A dinner, awards and a program will follow the golf tournament. Additional information can be found at www.swtc.edu/golfclassic.