For Immediate Release
Contact: Daniel Wackershauser, Marketing Specialist
Phone: 608.822.2303
Email: dwackershauser@swtc.edu
Mail: 1800 Bronson Blvd., Fennimore, WI 53809
Date: August 24, 2018
High school teachers learn small engine repair
Fennimore
-
As part of the Wisconsin Technical Colleges GPR Grant – Pistons to Pathways, 12 local high school technical education, and agriculture teachers have been at Southwest Wisconsin Technical College in Fennimore this week for Briggs & Stratton small engine training. This training will provide the credentials, engines, toolkits, and knowledge base (value totaling $5,500 per school) the high school teachers need to teach the Consumer Equipment Maintenance and Repair course.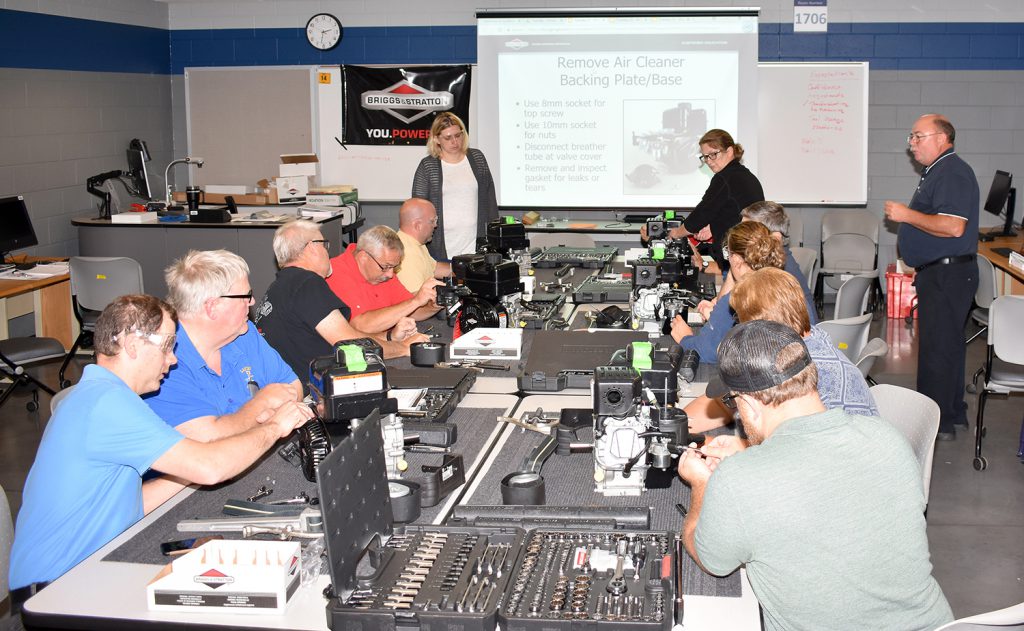 The grant also includes Southwest Tech upgrading its small engine kits and curriculum.
This is classified as transcripted credit with the high school instructor teaching the course at the high school. Students will receive both technical college and high school credit.
Response from the training was positive, as indicated by a couple of teachers upon completion.
"We are all very thankful for Southwest Tech investing time and energy into putting together this wonderful small engine seminar. They have helped us become better educators."
"Southwest Tech has made a huge difference! I've learned a great deal this week and am so appreciative of this opportunity."
Participants include Weston High School (Cazenovia, Wisconsin), Dodgeville High School, Darlington High School, Pecatonica High School, Fennimore High School, Shullsburg High School, Platteville High School, Iowa-Grant School District, Prairie du Chien School District, North Crawford School District, and Lancaster Community Schools.
For more information about options for high school students to earn college credit: https://www.swtc.edu/academics/earn-credit-in-high-school.