Hill recognized as college ambassador
Contact: Daniel Wackershauser, Marketing Specialist
Phone: 608.822.2303
Email: dwackershauser@swtc.edu
Mail: 1800 Bronson Blvd., Fennimore, WI 53809
Date of Release: May 8, 2019
Hill recognized along with fellow college ambassadors
Wisconsin Dells
-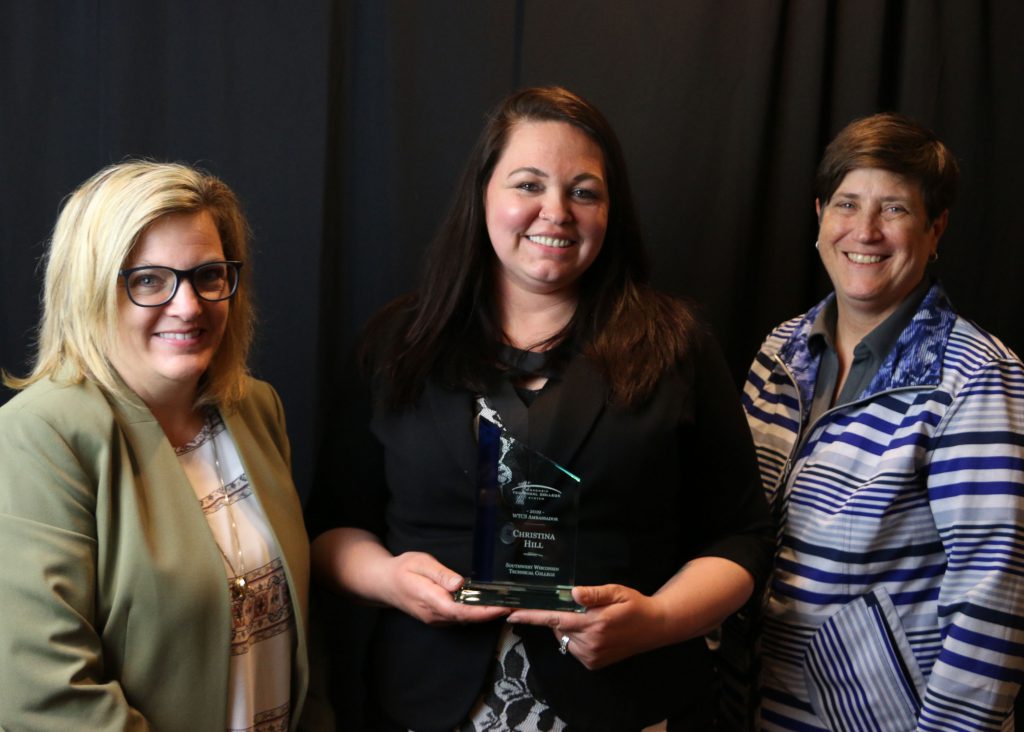 The Wisconsin Technical College System (WTCS) recently recognized 16 technical college students as "WTCS Ambassadors" at a ceremony in Wisconsin Dells. After a full day of leadership training, the students will champion opportunities in technical education at events and in videos and publications throughout the coming year.
"Our students are fearless leaders at school, in the workplace and in the community," said WTCS President Dr. Morna K. Foy. "These 16 outstanding students exemplify that."
Baird, an employee-owned, international financial services firm headquartered in Milwaukee, has sponsored the WTCS State Ambassador program since its inception more than a decade ago.
"We're proud of Wisconsin's technical colleges and recognize what they do for the state's economy," said Lisa Voisin, a managing director with Baird's Public Finance Team. "Tech college talent is highly valued across economic sectors. Baird is committed to supporting these students and the opportunities provided by our technical colleges," Voisin said.
The Ambassadors' backgrounds include traditional students attending college immediately following high school graduation, as well as those returning for additional education mid-career or changing careers. One of the program's objectives is to develop greater public awareness and appreciation for the role and value of technical education for individuals, employers and the state's economy.
This 2019 WTCS Ambassadors are:
Kwamesha Milsap, Nursing – Blackhawk Technical College
Brandy Mouledoux, Pre-Program for Nursing – Chippewa Valley Technical College
Heather Schroeder, Individual Technical Studies – Fox Valley Technical College
Angela Haney, Human Services – Gateway Technical College
Gregg Udulutch, Human Resource Management – Lakeshore Technical College
Andrew Allison, Automotive Technology – Madison College
Vikram Gill, Business Management – Mid-State Technical College
Marissa Nicholson, Criminal Justice – Milwaukee Area Technical College
Barbara Turner, Leadership Development – Moraine Park Technical College
Bess Corn, Early Childhood Education – Nicolet College
Kayley McColley, Nursing – Northcentral Technical College
Joseph Maier., Mechanical Design Technology – Northeast Wisconsin Technical College
Christina Hill, Culinary Arts – Southwest Tech
Kelly Gonzales, Baking & Pastry Management – Waukesha County Technical College
Evan Whalen, Accounting – Western Technical College
Logan Smith, Architecture Commercial Design – Wisconsin Indianhead Technical College
ABOUT WISCONSIN TECHNICAL COLLEGE SYSTEM
The Wisconsin Technical College System (WTCS) offers more than 400 programs awarding two-year associate degrees, one- and two-year technical diplomas and short-term technical diplomas and certificates. In addition, the System is the major provider of customized business solutions and technical assistance to Wisconsin employers. Well over 300,000 individuals access a technical college each year. For more information, visit www.wtcsystem.edu.
Contact: Conor Smyth, Wisconsin Technical College System, conor.smyth@wtcssystem.edu or 608.266.2991