For Immediate Release
Contact: Kim Schmelz, External Relations & Alumni Development
Phone: 608.822.2379
Email: kschmelz@swtc.edu
Mail: 1800 Bronson Blvd., Fennimore, WI 53809
Date of Release: May 12, 2019
Your neighbor, our graduate: Bob Biba
Fennimore
-
Bob Biba, '82, Auto Body Repair alumnus, said he was drawn to cars at an early age. He grew up on a dairy farm outside of Boscobel and was always good at fixing farm equipment.  "I'm a muscle head!" he said smiling. "I always wanted to build cars!" Biba came to Southwest Tech for the Auto Body Repair program, led then by John Schindler and Tony Moon in 1981.
After graduating from Southwest Tech, he went to work for a small auto body shop with the goal of owning his own business. His grandfather had built the Ford dealership in Boscobel that Bob now owns and runs as Bob's Auto Body. Biba explained that when it was originally built it was one of few businesses on the highway. Most businesses were on Main Street in Boscobel, but his grandfather ran a good business and it led the way for other businesses to open along the highway. Eventually, Biba's grandfather sold the business and years later in 1989 Biba bought it and it became Bob's Auto Body.
Biba explained that while he felt prepared to work on automobiles, he took additional business courses to learn the management side of his business. "It's tough to start a business. There's always a balance of keeping the customer happy and making enough money to be profitable." Biba's wife Julie also operates her own in-home daycare at the farm they live on and operate.
Bob and Julie have six children. Biba explained that they used their farm as a way to teach their children responsibility and accountability by raising calves. "They had to get up each morning and feed their calves before they went to school. They didn't always like it but it's how they each earned enough money to buy a car once they turned 16."
Biba is actively involved at Southwest Tech. His entire staff at Bob's Auto Body is Southwest graduates and he fills in when needed to teach for the Auto Body Repair program.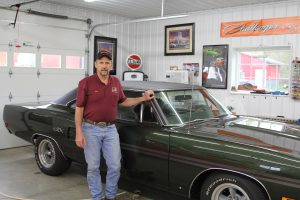 Above: Biba with a 1970 Plymouth GTX 4 speed hemi motor that he restored