For Immediate Release
Contact: Daniel Wackershauser, Marketing Specialist
Phone: 608.822.2303
Mail: 1800 Bronson Blvd., Fennimore, WI 53809
Date of Release: April 13, 2023
Holverson earns global Cisco award
Fennimore
-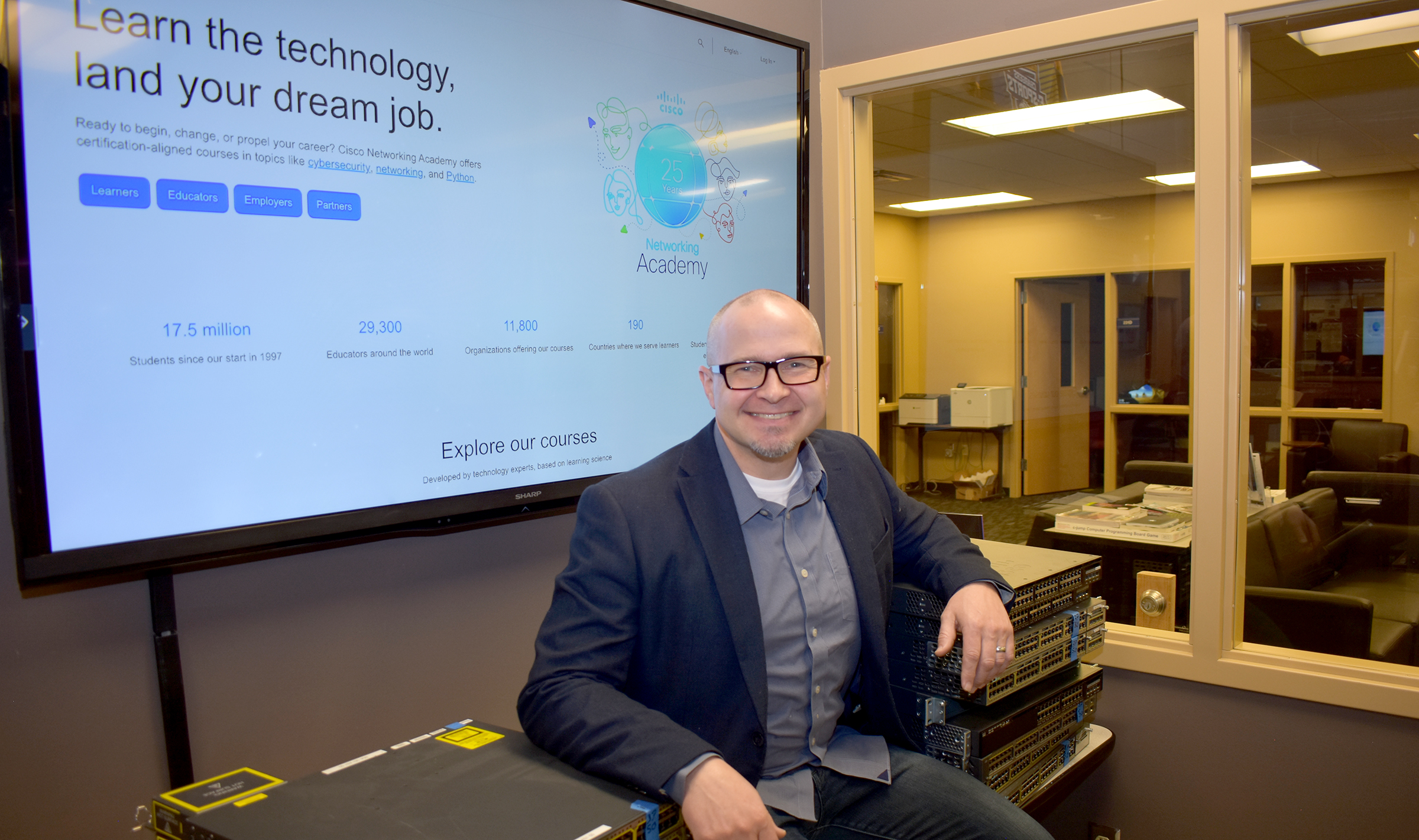 Aaron Holverson, a Network Specialist instructor at Southwest Wisconsin Technical College, has earned a prestigious international award from Cisco Systems, Inc. He was recently honored as a Cisco Network Academy Expert Level Instructor. This award recognizes Holverson's achievements as a top 10-percent instructor, globally, in student feedback and performance. He was recognized with a certificate of achievement and will be named at the upcoming Cisco Networking Academy Recognition Program.
"It's a little humbling that's even a statistic that I've become aware of now," said Holverson. "I didn't even consider it to be something I could achieve. It's an honor to receive this achievement from Cisco."
Holverson began teaching at Southwest Tech in the fall of 2000. He integrates Cisco curriculum into the classroom, and also uses it to teach labs outside of the classroom. "I love what Cisco does and what they provide," he said. "They provide a lot of curriculum. I like to use their curriculum. I don't use all of it. I like to diversify and use other vendors' curriculum, if it's decent, so students get more than Cisco."
When Holverson began at Southwest Tech, the Cisco program was fairly new. Cisco now provides curriculum for several security, programming IT basics, and networking courses.
Holverson became Cisco certified before joining Southwest Tech, and then became a Cisco-certified instructor in order to use the Cisco curriculum in the classroom. At the time, the curriculum was also used in area high schools.
Cisco Academy is used throughout the world to train IT professionals, and the Cisco certification exam is required every three years. According to Holverson, at one time, it was considered the most difficult entry-level certification exam in IT (Information Technology).
"They have a great program that ensures the students get the materials they need and the knowledge they need to go out into the workforce, whether they are going to be using Cisco equipment or not," said Holverson.
As a benefit to his students, Holverson started the testing center in the Knox Learning Center on campus. It allows students a space to take their certification exams, rather than having to drive somewhere else.
Holverson's interest for IT started in elementary school. "I got tired of playing "Oregon Trail," he joked. Holverson was given a basic programming book by a teacher, which kept his interest. When the computer turned off, the game he designed, was erased, so he had to start over the next day.
IT has kept Holverson's attention throughout the years because of its wide variety of opportunities. "There's so many different facets to IT," he said. "You can dive in and envelope yourself in one aspect of IT and within an hour or even the next day you can jump into some other aspect of IT, which is totally different. You get to see the results of your work by seeing that application work, that webpage get created, the server responding to a network request, it's cool to see the immediate response of what you're actually doing."
| Southwest Wisconsin Technical College, a finalist for the 2023 Aspen Prize for Community College Excellence, is one of 16 institutions that comprise the Wisconsin Technical College System. Southwest Tech offers more than 60 programs in a wide variety of disciplines. Courses are offered on campus, online, HyFlex and in a blended format. The college provides apprenticeship, certificate, technical diploma, and associate degree programs that respond to district workforce needs and prepare student for family-sustaining jobs and career advancement. |