For Immediate Release
Contact: Daniel Wackershauser, Marketing Specialist
Phone: 608.822.2303
Mail: 1800 Bronson Blvd., Fennimore, WI 53809
Date of Release: April 24, 2023
Southwest Tech recognized as 2023 Aspen Prize finalist
Washington, D.C.
-
On April 27, the Aspen Institute announced the winners and finalists of the 2023 Aspen Prize for Community College Excellence, the nation's premier award for two-year colleges. Southwest Wisconsin Technical College was recognized as a finalist, applauded for its outstanding work helping students succeed in college and beyond.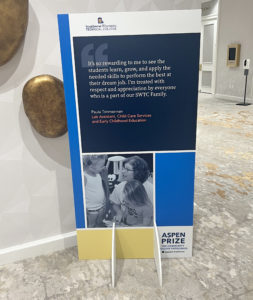 Southwest Tech was recognized for its graduation rates, among the highest in the nation, as well as its work ensuring that students are ready for jobs right out of college. The college is also notable for its continual efforts to improve both the programs it offers and the classroom instruction provided to students.
"Other community colleges with that level of success might rest, but Southwest Wisconsin is always looking to improve," said Josh Wyner, executive director of the Aspen Institute College Excellence Program. "It has developed some of the best systems for faculty to improve teaching and student learning every semester, and exceptional processes for strengthening programs of study every year. It is these scaled and systemic practices that set Southwest Wisconsin apart and leads to ever-improving student outcomes."
Since its creation in 2010, the Aspen Prize has been the nation's signature recognition of community colleges that are achieving high, improving, and equitable outcomes for students both while in college and after graduating. The winners and finalists represent the amazing potential of America's thousand-plus community colleges to lift up individuals and communities by serving as engines of prosperity and social mobility.
The 2023 Prize winners were selected by an independent nine-member Prize Jury of leaders in politics, journalism, and education:
Jaime Aquino, superintendent, San Antonio Independent School District
Thomas Brock, director, Community College Research Center, Teachers College, Columbia University
Sarita Brown, president, Excelencia in Education
Andrew Kelly, senior vice president for strategy and policy, University of North Carolina System
David Leonhardt, senior writer, The New York Times
Ericka Miller, president and CEO, Isaacson, Miller
Joelle Phillips, president, AT&T Tennessee
Michael Sorrell, president, Paul Quinn College
Jane Swift, president and executive director, LearnLaunch; former governor of Massachusetts
Awarded every two years, the Aspen Prize honors colleges that show outstanding performance in six critical areas: teaching and learning, certificate and degree completion, transfer and bachelor's attainment, workforce success, equitable access, and equitable outcomes for students of color and students from low-income backgrounds. The selection process for this year's prize began in October 2021, when an expert data panel guided the Aspen Institute in crafting a formula to assess student outcomes at nearly 1,000 community colleges in key areas such as retention, completion, and equity. Based on that formula, 150 top community colleges were invited to apply. A selection committee of 16 higher education experts reviewed 109 submitted applications and chose ten finalists in May 2022, following the announcement of 25 semifinalists in April 2022. For more information about the Prize process, please visit: as.pn/Prize.
The ten finalists (including the two winners of the $1 million prize) are:
Amarillo College, TX (winner)
Broward College, FL
Imperial Valley College, CA (winner)
Hostos Community College (CUNY), NY
Kingsborough Community College (CUNY), NY
Moorpark College. CA
Northwest Iowa Community College, IA
San Jacinto College, TX
South Puget Sound Community College, WA
Southwest Wisconsin Technical College, WI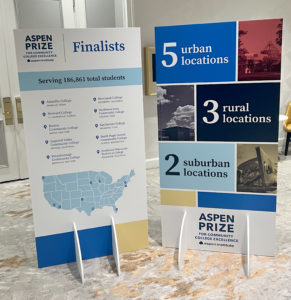 The Aspen Prize is generously funded by Ascendium, the Joyce Foundation, JPMorgan Chase, and the Kresge Foundation.
Previous Aspen Prize winners:
2021: San Antonio College (TX)
2019: Indian River State College (FL) and Miami Dade College (FL)
2017: Lake Area Technical Institute (SD)
2015: Santa Fe College (FL)
2013: Santa Barbara City College (CA) and Walla Walla Community College (WA)
2011: Valencia College (FL)
Note: Colleges that have won the Aspen prize are not eligible to apply in subsequent years
The Aspen Institute College Excellence Program aims to advance higher education practices, policies, and leadership that significantly improve student outcomes, especially for the growing population of low-income students and students of color on American campuses. For more information, visit highered.aspeninstitute.org.
The Aspen Institute is a community-serving organization with global reach whose vision is a free, just, and equitable society. For 70 years, the Institute has driven change through dialogue, leadership, and action to help solve the world's greatest challenges. Headquartered in Washington, D.C., the Institute has offices in Aspen, Colorado, and New York City, and an international network of partners. For more information, visit aspeninstitute.org.