For Immediate Release
Contact: Daniel Wackershauser, Marketing Specialist
Phone: 608.822.2303
Mail: 1800 Bronson Blvd., Fennimore, WI 53809
Date of Release: June 13, 2022
Huff leaves legacy with major gift
Fennimore
-
(Note: This article is currently featured in the Southwest Tech Annual Report.)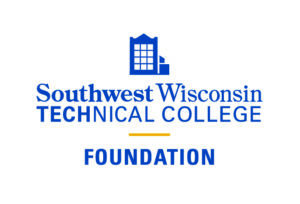 For William "Bill" Huff, the idea of paying it forward means helping those better themselves through education. He recently gifted Southwest Wisconsin Technical College nearly $300,000 to start the Bill Huff Family Endowment Scholarship. This scholarship will allow for 10, $1,000 scholarships to Southwest Tech students. "A lot of it comes from the fact that I didn't have a lot to start with myself," he said. "I was fortunate to have the G.I. Bill available when I got out of the service. I used that to get an education I knew I needed to be successful."
Huff grew up in Dubuque, Iowa and Lancaster, Wisconsin. He served in the military and after his service graduated from the Wisconsin Institute of Technology (WIT), now UW-Platteville, in Platteville, Wisconsin, with a degree in mining engineering. After moving to California to pursue a career in mining, Huff eventually transitioned to own and operate Huff Properties, a property development and management business, in Upland, California.
Huff and his family are strong supporters of higher education with scholarships at several universities and colleges as well as supporters of the Upland YMCA, which hosts the Huff Family Aquatic Center.
During a visit to campus in October, Huff had the opportunity to meet two scholarship recipients. "I loved that (meeting them) because I know what a struggle it was for me to get through school," he said. "Anybody who doesn't have support, and they need help, it is really nice to be in a position to help those less fortunate than I am. I certainly understand that position. We feel blessed in all of this and are proud to be a part of it."
To be eligible for the scholarship, students must show a financial need. And preference is given to graduates from Lancaster High School and Dubuque Senior High School.
Hailey Doyle, a Lancaster native, and student in the Dental Assistant program, was one of the scholarship recipients who visited with Huff. "I'm so glad I'm able to put a face to the name and see family of his as well," she said.
The financial assistance from this scholarship will go a long way in helping Doyle achieve her educational goals. "The scholarship has been a great help to me," she said. "I am able to live at home, but it is still a challenge to work and go to school at the same time. I am so grateful for it. I'm definitely going to remember this."
| Southwest Wisconsin Technical College, a finalist for the 2023 Aspen Prize for Community College Excellence, is one of 16 institutions that comprise the Wisconsin Technical College System. Southwest Tech offers more than 60 programs in a wide variety of disciplines. Courses are offered on campus, online, HyFlex and in a blended format. The college provides apprenticeship, certificate, technical diploma, and associate degree programs that respond to district workforce needs and prepare student for family-sustaining jobs and career advancement. |