For Immediate Release
Contact: Daniel Wackershauser, Marketing Specialist
Phone: 608.822.2303
Mail: 1800 Bronson Blvd., Fennimore, WI 53809
Date of Release: October 2, 2023
Kitelinger marks 25 years at Southwest Tech
Fennimore
-
Brian Kitelinger, safety coordinator, at Southwest Wisconsin Technical College, was recently recognized for his 25 years of service to the college. His first day on the job was Aug. 12, 1998.
Kitelinger grew up in Hazel Green, Wisconsin, before moving to Platteville, Wisconsin, after his hiring at Southwest Tech. He graduated from Southwestern High School in 1986, and earned an administrative professional degree from Southwest Tech in 1998.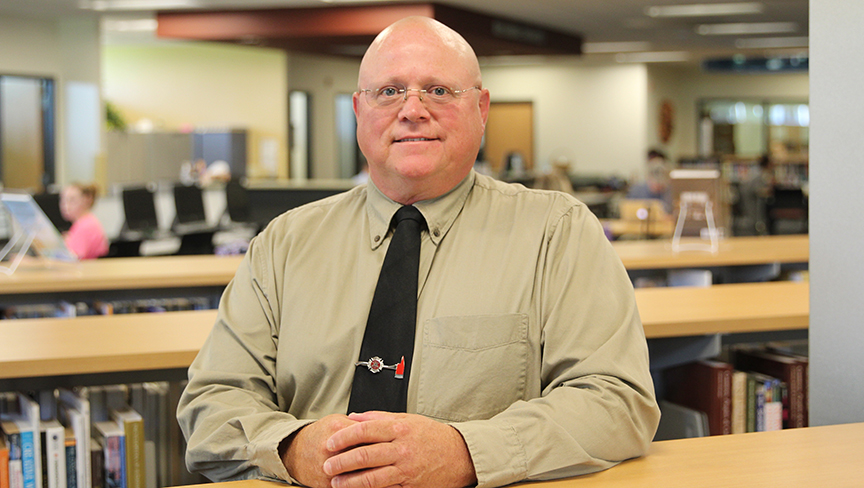 After graduating from high school, Kitelinger worked at a variety of positions. He was employed at Advance Transformer in Platteville in 1996, the year it shut down. He had worked there for four years. "I had the opportunity to go back to school and I took it," he said.
When Kitelinger started at Southwest Tech, he served as a program mentor in the student services area. He provided parallel support services to students with disabilities.
Kitelinger has held various titles on campus over the years. He worked in the public safety department, becoming a firefighter and EMT during that time. He remains a volunteer firefighter in Platteville, now for more than 20 years. He also was an EMT in Platteville for 14 years.
On campus, Kitelinger worked as the case manager for the Workforce Investment Act for two years. He moved back to student services and worked there for four years, before assuming his currently role. He has been the campus safety coordinator for the previous seven years.
"I enjoy working with the students and the staff," said Kiteliner. "It's a lot of diverse responsibilities that I like."
Looking forward, Kitelinger will be retiring from Southwest Tech at the end of the 2023-24 academic year. "I will be moving on to my next greatest adventure," he said, noting he will never fully retire. Kitelinger plans to offer consulting and independent work after leaving Southwest Tech.
| Southwest Wisconsin Technical College, is one of 16 institutions that comprise the Wisconsin Technical College System. Southwest Tech offers more than 60 programs in a wide variety of disciplines. Courses are offered on campus, online, HyFlex and in a blended format. The college provides apprenticeship, certificate, technical diploma, and associate degree programs that respond to district workforce needs and prepare student for family-sustaining jobs and career advancement. |