For Immediate Release
Contact: Daniel Wackershauser, Marketing Specialist
Phone: 608.822.2303
Mail: 1800 Bronson Blvd., Fennimore, WI 53809
Date of Release: September 19, 2023
Riley reflects on 25 years at Southwest Tech
Fennimore
-
Southwest Wisconsin Technical College has been an integral part of Lisa Riley's life. She was recently recognized for her 25 years of service to the college. She currently serves as the state reporting/curriculum coordinator, but that is not how her career started on campus.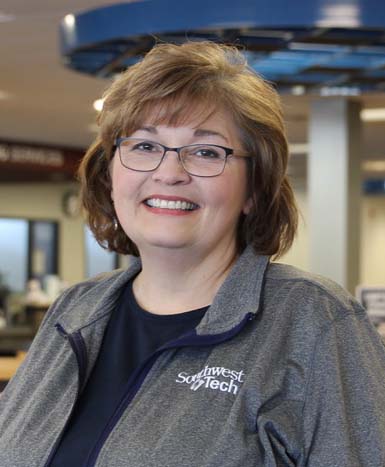 Riley, a native of South Wayne, Wisconsin and current Fennimore resident, attended Southwest Tech as a student, and graduated in 1988 with a Data Processing degree. "Computers were a new thing," she said.
Following graduation, she served in a variety of positions throughout the state. Those opportunities included at CUNA and Affiliates, as well as the World Council of Credit Unions in Madison, Wisconsin. She was a computer programmer, help desk staff, and network administrator at those companies, before moving to Fennimore in 1996. Once in Fennimore, she worked for CESA #3 and UW-Platteville, before joining Southwest Tech.
Riley's career at Southwest Tech began on Aug. 12, 1998 as a computer lab assistant. She assisted students learn computer basics. "We had the boxes with the big huge monitors on them and we built those from scratch," she said. "I was a hardware/software technician. It was common to pull the cover off and troubleshoot by replacing hardware components. I installed the operating systems, the software applications, and managed a file server and printing services. It was a different world."
At that time, the college had roughly 200 computers in Building 200. "We had to install the software with diskettes," recalled Riley. "That was very time consuming. I was very relieved when software was installed from CDs. It was much more reliable and faster."
In addition, Riley also worked as an adjunct instructor in the IT area. "Teaching is probably my passion, but it has never been my job," she said. "I love to teach.
Her teaching included basic computer classes, including e-mail, Internet, and software courses. "People didn't know how to use computers at the time'" said Riley. "We would teach them to play solitaire to learn how to use the mouse."
Throughout the years, Riley has managed budgets, assisted with procurement processes, and worked closely with Information Technology Services. "It has gone very fast," she said. "I am always doing something different. I don't like doing the same thing everyday.
Her current position demands Riley keep accurate data for the college. She works in a business analyst role and needs to understand the processes of operations across campus.
Southwest Tech has been a family venture for Riley. Her husband is a graduate, completing the All-Around Butcher program in 1986. All four of her children have attended Southwest Tech in various capacities (HSEDs, transcripted credit through the high school, and degrees). "My whole family has been involved with Southwest Tech in one way, shape or form," she said. "Southwest Tech has been a big part of our lives."
| Southwest Wisconsin Technical College, a finalist for the 2023 Aspen Prize for Community College Excellence, is one of 16 institutions that comprise the Wisconsin Technical College System. Southwest Tech offers more than 60 programs in a wide variety of disciplines. Courses are offered on campus, online, HyFlex and in a blended format. The college provides apprenticeship, certificate, technical diploma, and associate degree programs that respond to district workforce needs and prepare student for family-sustaining jobs and career advancement. |