For Immediate Release
Contact: Daniel Wackershauser, Marketing Specialist
Phone: 608.822.2303
Mail: 1800 Bronson Blvd., Fennimore, WI 53809
Date of Release: June 16, 2022
Lab Science Technician program a benefit to high school students
Fennimore
-
High school students in Richland Center and Platteville have a prime opportunity to earn a technical diploma alongside their high school diploma. Southwest Wisconsin Technical College offers a Laboratory Science Technician program at each of those high schools, which is only open to seniors. Students from those schools, as well as those in CESA #3 are eligible to enroll. "This course is a great option for students," said Karen Bricco, Lab Science Technician adjunct instructor. "They are earning college credits that apply towards a college certificate as well as their high school diploma."
According to Bricco, "The course is great for those who want to work in any part of the dairy industry, but it is also a great starter for those who want to go on for careers in any laboratory technician setting, such as the medical laboratory field or veterinarian technician assistant field."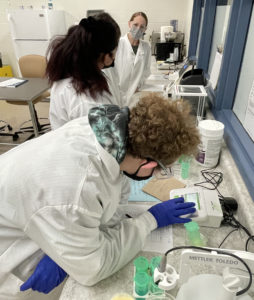 Food quality technicians work in a fast-paced environment. They enjoy variety throughout their workday and in the high-demand food processing industry. Students learn to:
Conduct food quality and safety tests
Report results
Evaluate the environment's effects on food quality
Apply quality principles to food production
Be involved in research and development of new products
The course is held mostly at the high schools. However, "there is a required two-day face-to-face HACCP course that takes place at the Southwest Tech campus," said Bricco. "There is also a 120-hour practicum that is completed in the summer after graduation that must also be completed to obtain the certificate."
"Along with the credits toward their high school diploma and the laboratory technician certificate, students take away vast knowledge of the dairy industry, laboratory safety and protocols and actual training in a dairy laboratory," added Bricco. "Southwest Tech also does a wonderful job of teaching core abilities that will help students in any future job setting."
Upon graduation, Bricco noted students can be hired into a full-time lab tech position. "The dairy industry has many openings locally and throughout Wisconsin," she said. "Students in the past, have used this as a summer job while they attend college during the school year."
According to Mary Johannesen, career prep and dual enrollment coordinator at Southwest Tech, any high school student in CESA #3 who will be a senior this fall is eligible to enroll. The application deadline was March 1, however, students are still able to apply if their school district will allow.
 "It is an excellent opportunity for students to gain skills to work in food quality and can be a direct path to a job in the industry or a stepping stone for continuing education at either a technical college or four-year university," said Johannesen.
| Southwest Wisconsin Technical College is one of 16 institutions that comprise the Wisconsin Technical College System. Southwest Tech offers more than 60 programs in a wide variety of disciplines. Courses are offered on campus, online and in a blended format. The college provides apprenticeship, certificate, technical diploma, and associate degree programs that respond to district workforce needs and prepare student for family-sustaining jobs and career advancement. |