For Immediate Release
Contact: Daniel Wackershauser, Marketing Specialist
Phone: 608.822.2303
Mail: 1800 Bronson Blvd., Fennimore, WI 53809
Date of Release: June 20, 2022
Pluemer marks 30 years at Southwest Tech
Fennimore
-
Julie Pluemer, director of Precollege and Service Occupations, recently celebrated her 30-year milestone at Southwest Wisconsin Technical College in Fennimore, Wisconsin. Her first day on campus was May 8, 1992. She graduated with a degree in education and began her career at Southwest Tech as a substitute teacher.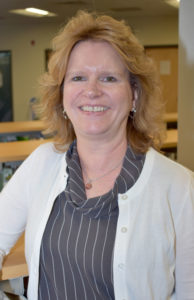 Pluemer applied later that fall for a program mentor position. Through this role she worked with students with disabilities in the Culinary Management and Early Childhood Education program areas. In this role, she assisted students within their program classes and helped them navigate their way through college. This role quickly expanded into other program areas. In addition to her work as a program mentor, Pluemer also taught Adult Basic Education in Cuba City, Wisconsin.
A couple years later, a tech prep specialist position became available. This was the beginning of dual credit programming at Southwest Tech. Pluemer was hired for that position, where she developed numerous articulation agreements with area high schools and universities; provided staff development for high school teachers and offered many other opportunities for high school/college collaboration. "I enjoyed working with the tech prep initiative," she said. "I felt the collaboration between the high schools and the college was beneficial to everyone involved, especially the students."
After a couple of years, the college was in need of a curriculum and staff development coordinator. Pluemer took on that role and continued her work in Tech Prep.
Pluemer was then named the supervisor of the Center for Teaching and Learning, which included online learning, curriculum, staff development, school to work, articulation agreements, technical skill attainment as well as Adult Basic Education. That position has morphed into her current role, one she has been in for the last five years. "I enjoy what I do now," she said. "It's fun when you can work with a team of people and leave feeling like you made an impact in the lives of students."
Pluemer also stated, "I feel really lucky in my position as I've had the opportunity to work with different departments across campus by facilitating many new and existing initiatives on campus."
Looking back on her career, Pluemer is appreciative of those who came before her.  "There are a number of great people who started important projects from which we are reaping the benefits," she said. "It has taken many people to make the college what it is today. It is important that we remember their work."
| Southwest Wisconsin Technical College, a finalist for the 2023 Aspen Prize for Community College Excellence, is one of 16 institutions that comprise the Wisconsin Technical College System. Southwest Tech offers more than 60 programs in a wide variety of disciplines. Courses are offered on campus, online, HyFlex and in a blended format. The college provides apprenticeship, certificate, technical diploma, and associate degree programs that respond to district workforce needs and prepare student for family-sustaining jobs and career advancement. |