For Immediate Release
Contact: Daniel Wackershauser, Marketing Specialist
Phone: 608.822.2303
Mail: 1800 Bronson Blvd., Fennimore, WI 53809
Date of Release: November 25, 2020
Nickels commended for service on SWTC District Board
Fennimore
-
For 14 years, Eileen Nickels served on the Southwest Tech District Board. She retired from that post on June 30 and was honored for her work from local legislators with a state commendation.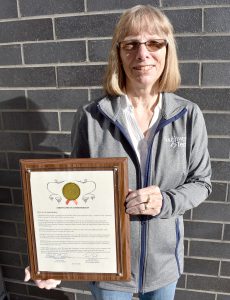 Eileen and her husband, Tom, live in Platteville. She is a retired real estate agent, who has dedicated much of her life to public service.
The commendation states, "Whereas, Eileen is a true community servant. In addition to her service with Southwest Tech, Eileen has served on the Platteville City Council for 24 years, nine of which she served as the City Council president, the Southwest Wisconsin Regional Planning Commission, and the Platteville High School Scholarship Fund Advisory Board."
The commendation went on to highlight Nickels' dedication to Southwest Tech. "Her leadership has transformed the college, especially as a leader during the only referendum the college has ever taken successfully to voters, improving the institution's footprint and reputation."
Wisconsin State Sen. Howard Marklein (R-Spring Green) and State Rep. Travis Tranel (R-Cuba City) signed the commendation.
"It was a very nice surprise," said Nickels. "I really appreciate it.""Eileen was a positive and impactful leader at Southwest Tech," said Jason Wood, Southwest Tech president. "I appreciate her many years of service, both to the college and as an elected official in Platteville. We will always be grateful for Eileen's influence."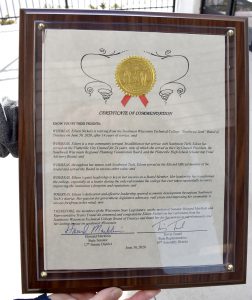 The interest in volunteering came years ago for Nickels when she led her daughters' Girl Scout troop. That experience propelled her into a fulfilling life of public service, in addition to her real estate career. "You meet a lot of people you wouldn't otherwise meet," she said. "You understand your community better and you gain leadership skills. It's an educational experience if you look at it that way.
During her 14 years serving on the Southwest Tech District Board, Nickels is proud of the communication between all of the stakeholders. "Whether it was a challenge or an opportunity, what impressed me was that was brought to the board," she said. "And if we had questions, we had those answered. There was great communication from the board on down. College personnel were always looking forward and that has really benefitted the students and Southwest Wisconsin."
| Southwest Wisconsin Technical College is one of 16 institutions that comprise the Wisconsin Technical College System. Southwest Tech offers more than 60 programs in a wide variety of disciplines. Courses are offered on campus, online and in a blended format. The college provides apprenticeship, certificate, technical diploma, and associate degree programs that respond to district workforce needs and prepare student for family-sustaining jobs and career advancement. |