For Immediate Release
Contact: Daniel Wackershauser, Marketing Specialist
Phone: 608.822.2303
Mail: 1800 Bronson Blvd., Fennimore, WI 53809
Date of Release: November 30, 2020
Thiele Scholarship expands to Wauzeka-Steuben graduates
Fennimore
-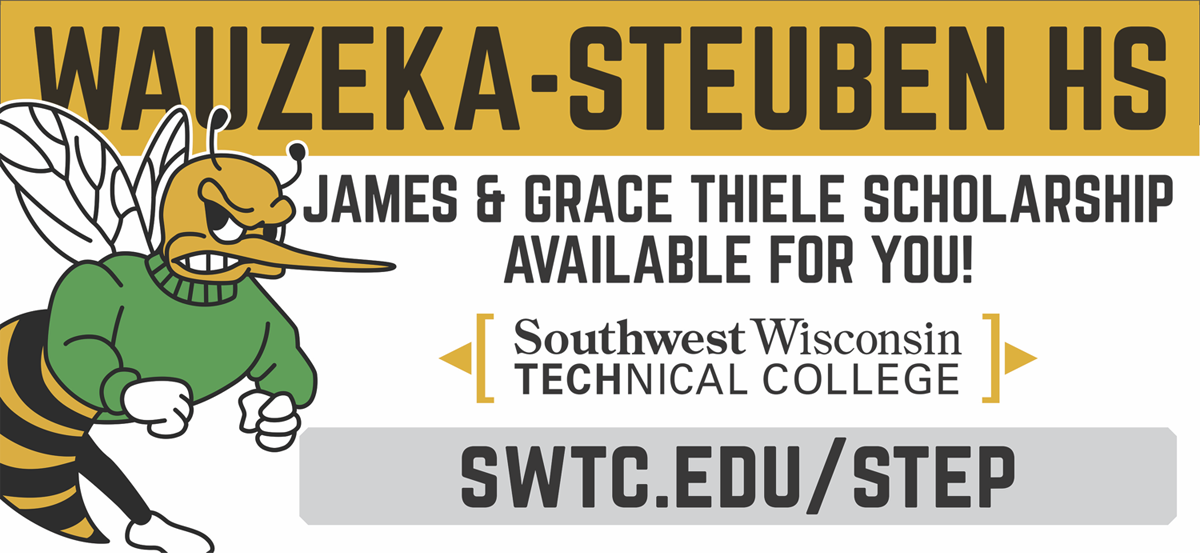 Boscobel High School (BHS) graduates and now Wauzeka-Steuben High School graduates can receive up to $3,000 towards an education at Southwest Wisconsin Technical College. In 2018, with a $600,000 donation, Patrick Thiele, a 1968 Boscobel High School graduate, created the James and Grace Thiele Scholarship at Southwest Tech. The scholarship is named after his parents.
Initially, the gift was directed toward Boscobel graduates, which guaranteed scholarships up to $3,000 per student who attended Southwest Tech. This fall semester the scholarship expanded to include Wauzeka-Steuben High School graduates with an additional endowment gift from Thiele. Students can be fresh from high school, non-traditional, full-time, part-time or someone who hasn't completely finished a program. All BHS and Wauzeka-Steuben graduates are eligible for this support. Students must be enrolled with at least six program credits to be eligible.
In its first year, the Southwest Tech Educational Pledge (STEP) scholarship program benefitted 36 students with scholarships worth $40,500.
As a STEP scholarship, once eligible students from either Boscobel or Wauzeka-Steuben complete 15 program credits they earn a $500 scholarship to help with the following semester's costs. Once they earn 30 credits, that amount increases to $1,000 and after earning 45 program credits they receive a $1,500 scholarship.
"Patrick's gift will change lives and families for generations," said Holly Clendenen, executive director, Southwest Tech College Advancement, Foundation and Real Estate Foundation. "We are thrilled to have the opportunity to expand the scholarship program to Wauzeka-Steuben graduates and we are already seeing great interest from students who see the tremendous value of this opportunity."
Already in the 2020-21 academic year, 17 Boscobel High School graduates received $18,500 in Thiele scholarships, and six Wauzeka-Steuben graduates received $6,500 in Thiele scholarships this fall.
"Southwest Tech is honored by Patrick's gift and we can already see, after just the first year, its enormous positive impact on our students," said Jason Wood, Southwest Tech president. "As the program has expanded to Wauzeka-Steuben, Patrick is opening doors for so many more students to be successful and we are thrilled to partner in those efforts."
Kari Bird, a 2003 Wauzeka-Steuben graduate, is in line to receive a $500 scholarship. She enrolled in the nursing program this fall. "I plan to continue until I graduate with a Nursing associate degree," she said.
"I am so thankful for this scholarship," said Bird. "I currently work full time as an administrative assistant, and I also work part-time as a waitress on the weekends. This scholarship will allow me to cut back on all the hours I am working, and focus more on my studies and academic goals."
Bird is currently enrolled in the first semester of the part-time nursing program. The part-time program splits four semesters into eight, and offers the classes on nights and weekends. "This way students are able to work full-time while taking classes," she said. "I will be taking the first half of the program part-time and I plan to take the second half of the program full-time, so I can graduate in the Spring of 2023. I am so thankful to receive this scholarship. Without the James and Grace Thiele scholarship, graduating in three years would not be possible for me."
Brooklynn Nagel graduated from Wauzeka-Steuben High School in 2018 and has earned $1,500 through the Thiele Scholarship program. She is enrolled in the Accounting Associate Degree program after graduating in December 2019 with an associate degree in agribusiness management from Southwest Tech. "With receiving this generous scholarship, it has made it easier for me to continue my education and career goals," she said. "I hope one day I will be able to give back and help other students achieve their goals. My goals after graduation are to work in the agriculture industry, helping farmers with their finances."
Dayne Krachey is a Wauzeka-Steuben graduate and is enrolled in the Nursing Associate Degree program at Southwest Tech. He has earned $1,000 through the Thiele Scholarship. "This helped me not have to take out loans to pay for school, resulting in my ability to lower my hours of working to focus on my classes during the school year," said Krachey.
"This scholarship has helped me be able to solely focus on school and not having to work so many hours," said Krachey. "I appreciate this as it allows for more flexibility with my school schedule and availability for campus resources such as tutoring sessions."
If things go according to plan, Krachey will graduate in May 2022. He has his sights set on working at an area hospital.
Of the first 36 recipients of the scholarship, 16 graduated in May from Southwest Tech. One of those graduates was Christina Hill, who earned an associate degree in Culinary Management. Prior to that, she earned a Culinary Arts degree in 2019. She is a 2003 BHS graduate. Hill earned $1,500 through the Thiele Scholarship. "By receiving the scholarship, it has afforded me the opportunity to not only focus directly on my studies, but to excel in them as well," she said.
Hill noted this scholarship awarded her the opportunity to return to Southwest Tech to earn her second degree. She is currently employed part-time as a chef with Southwest Tech Dining Services, while she develops her own culinary business plan.
Additional information about the scholarship can be found at www.swtc.edu/step.
| Southwest Wisconsin Technical College is one of 16 institutions that comprise the Wisconsin Technical College System. Southwest Tech offers more than 60 programs in a wide variety of disciplines. Courses are offered on campus, online and in a blended format. The college provides apprenticeship, certificate, technical diploma, and associate degree programs that respond to district workforce needs and prepare student for family-sustaining jobs and career advancement. |