For Immediate Release
Contact: Daniel Wackershauser, Marketing Specialist
Phone: 608.822.2303
Mail: 1800 Bronson Blvd., Fennimore, WI 53809
Date of Release: February 10, 2023
Open Weld Nights planned thanks to grant
Fennimore
-
With nearly $3 million in grant funds to spend on manufacturing training, a consortium led by Southwest Wisconsin Technical College is busy putting the pieces in place. Last year, the college was awarded a $2.9 million grant to fund its Advance Southwest Wisconsin project. The project will help the southwest Wisconsin workforce excel and increase their career potential in the post-pandemic manufacturing sector by providing training, educational pathways, and advanced support. The grant is part of Gov. Tony Evers' Workforce Innovation Grant program and is administered by the Wisconsin Economic Development Corporation (WEDC) and the Wisconsin Department of Workforce Development.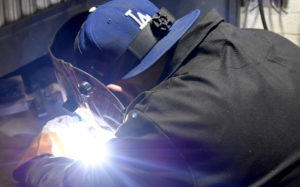 Among the upcoming training opportunities will be Open Weld Nights, starting Tuesday, Feb. 21. The campus welding lab will be open from 5-9 p.m. each Tuesday for members of the public to hone their welding skills, with supervised instruction. This training will be for anyone, regardless of skill level.
OSHA training, LEAN Manufacturing, English Language Learner (ELL), Adult Basic Education (ABE) courses, Automated Systems training, and much more, will be offered through the grant, as well. "During the last several years, our regional manufacturing sector suffered," said Dr. Jason Wood, president of Southwest Tech. "Certainly, the pandemic affected our partners in ways we couldn't imagine. This grant and work we will all do together will make great strides in getting them back on track."
"Events like the Open Weld Nights let community members get hands-on experience with welding and other advanced manufacturing skills," said Missy Hughes, WEDC secretary and CEO. "Manufacturing offers many pathways to build a career and events like these can help prospective students discover what may be the right path for them."
The Advance Southwest Wisconsin project is a two-and-a-half year plan, which will run through June 2025. Holly Straka, Workforce Innovation Grant coordinator at Southwest Tech, along with Dennis Cooley, executive director of advancement, have been busy meeting with industry partners. They have been coordinating both on-site and on-campus trainings and forging a plan for the future. "A lot has transpired over the last few weeks," said Straka. "It's moving at a very fast pace."
In addition, instructors will be trained to bring their expertise to industry worksites for mobile trainings. Straka recommends area business leaders schedule a meeting to discuss their needs and formulize a customized training plan. "We are available for listening sessions to help them build customized trainings based on what they need," she said.
To contact Straka, call 608-822-2323 or email hstraka@swtc.edu.
There is a fee to participate in the Open Weld Nights. To learn more, visit www.swtc.edu/asw-welding.