For Immediate Release
Contact: Daniel Wackershauser, Marketing Specialist
Phone: 608.822.2303
Mail: 1800 Bronson Blvd., Fennimore, WI 53809
Date of Release: February 10, 2023
First Black History Month Community Celebration planned
Fennimore
-
Note: Due to winter weather, this event has been postponed to Wednesday, March 1 from 4-8 p.m.
In what could become an annual event, Southwest Wisconsin Technical College officials are planning the first Black History Month Community Celebration. The event will be held Wednesday, Feb. 22 from 4-8 p.m. in Charley's Student Center on campus. According to Chantel Hampton, Diversity, Equity and Inclusion (DEI) coordinator and a member of the DEI Work Group, the event will be a great opportunity for students, staff and community members to socialize and network in celebration of Black History Month. "It will be a space where we can come together and network and have fun," she said.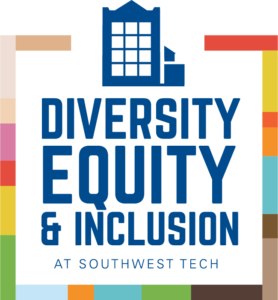 The DEI Work Group is organizing the event. Hampton says they are hoping to schedule a local barber or stylist to give tips to attendees about hair and hair products. There will also be food, black history trivia, and tours of the "Black and White in Black and White: Images of Dignity, Hope and Diversity in America," photo exhibit on campus. Other events will be finalized as Feb. 22 gets closer.
The idea for the event came from the recent Eboné Bell event. Bell was on campus Feb. 1 to present "Black History is American History." The Q&A session that followed brought about the idea of the Community Celebration. "We are really excited about this," said Hampton. "It's moving along quickly, and we are hoping it will be well received."
The event is open to the public. Hampton and the work group invite all K-12 students, families, and staff in Southwest Tech's five-county district to the event.
To learn more about the college's Diversity, Equity and Inclusion initiatives, visit www.swtc.edu/dei.
| Southwest Wisconsin Technical College, a finalist for the 2023 Aspen Prize for Community College Excellence, is one of 16 institutions that comprise the Wisconsin Technical College System. Southwest Tech offers more than 60 programs in a wide variety of disciplines. Courses are offered on campus, online, HyFlex and in a blended format. The college provides apprenticeship, certificate, technical diploma, and associate degree programs that respond to district workforce needs and prepare student for family-sustaining jobs and career advancement. |